Jurassic World: Dominion Dominates Fandom Wikis - The Loop
Play Sound
This article is about 1862 . For other uses, see
1862 (disambiguation)
.
1862 in topic:
Subjects:    

Archaeology

-

Architecture

-
Art

-

Literature

(

Poetry

) -

Music

-

Science
Sports

-

Rail Transport
Countries:    

Australia

-

Canada

-

France

-

Germany

-

Ireland

-

Mexico

-

New Zealand

-

Norway

-

South Africa

-

UK

-

USA
Leaders:  

State leaders

-

Colonial governors
Category: Establishments - Disestablishments
Births - Marriages - Deaths



Year 1862 was a common year starting on Wednesday (link will display the full calendar) of the Gregorian calendar (or a common year starting on Monday of the 12-day slower Julian calendar).
Events of 1862
[
]
January - March
[
]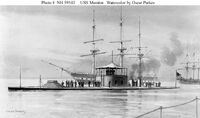 April - June
[
]
July - September
[
]
July 1
July 2 - U.S. President Abraham Lincoln signs the Morrill Land Grant Act into law, creating land-grant colleges to teach agricultural and mechanical sciences across the United States.
July 4 - Charles Dodgson (better known as Lewis Carroll) extemporises the story that becomes Alice's Adventures in Wonderland for 10-year-old Alice Liddell and her sisters on a rowing boat trip on The Isis from Oxford to Godstow.
July 16 - American Civil War: David G. Farragut becomes the first United States Navy rear admiral.
July 19 - American Civil War: Morgan's Raid - At Buffington Island in Ohio, Confederate General John Hunt Morgan's raid into the north is mostly thwarted when a large group of his men are captured while trying to escape across the Ohio River.
July 23 - American Civil War: Henry W. Halleck takes command of the Union Army.
August 2 - American Civil War: Skirmish at Taberville, MO -Union forces force Confederate troops to march south, near Taberville.
August 5 - American Civil War: Battle of Baton Rouge - Along the Mississippi River near Baton Rouge, Confederate troops drive Union forces back into the city.
August 6 - American Civil War: The Confederate ironclad CSS Arkansas is scuttled on the Mississippi River after suffering damage in a battle with the USS Essex near Baton Rouge.
August 9 - American Civil War: Battle of Cedar Mountain - At Cedar Mountain, Virginia, Confederate General Stonewall Jackson narrowly defeats Union forces under General John Pope.
August 14 - Abraham Lincoln meets with a group of prominent African-Americans - the first time a President has done so. He suggests Black people should migrate to Africa or Central America, but this advice is rejected.
August 17 - Indian Wars: Lakota (Sioux) uprising begins in Minnesota as desperate Lakota attack white settlements along the Minnesota River. They will be overwhelmed by the US military six weeks later.
August 19 - Indian Wars: During an uprising in Minnesota, Lakota warriors decide not to attack heavily-defended Fort Ridgely and instead turn to the settlement of New Ulm, killing white settlers along the way.
September 1 - American Civil War: Battle of Chantilly - Confederate General Robert E. Lee leads his forces in an attack on retreating Union troops in Chantilly, driving them away.
September 2 - American Civil War: President Abraham Lincoln reluctantly restores Union General George B. McClellan to full command after General John Pope's disastrous defeat at the Battle of Second Bull Run.
September 5 - American Civil War: In the Confederacy's first invasion of the North, General Robert E. Lee leads 55,000 men of the Army of Northern Virginia across the Potomac River at White's Ford near Leesburg, into Maryland.
September 12 - American Civil War: Battle of Harpers Ferry - Confederates capture the Union garrison at Harper's Ferry, Virginia.
September 17 - American Civil War: Battle of Antietam - Union forces defeat Confederate troops at Sharpsburg, in the bloodiest day in U.S. history (with over 22,000 casualties).
September 19 - American Civil War: Battle of Iuka - Union troops under Major General William Rosecrans defeat a Confederate force commanded by Major General Sterling Price at Iuka.
September 22
September 29 - Bismarck's "Blood and Iron" speech
October - December
[
]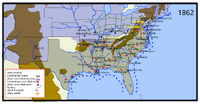 Undated
[
]
Ongoing Events
[
]
Births
[
]
January - June
[
]
July - December
[
]
See also 1862 births.
Deaths
[
]
January - June
[
]
July - December
[
]
People of the year 1862 at Familypedia
300 people were born in 1862
129 children were born to the 127 women born in 1862
190 people died in 1862
16288 people lived in 1862
Events of the year 1862 at Familypedia
268 people were married in 1862.
There were 0 military battles in 1862.

See also 1862 deaths.
This page uses content from the English language Wikipedia. The original content was at 1862. The list of authors can be seen in the page history. As with this Familypedia wiki, the content of Wikipedia is available under the Creative Commons License.