We're Getting Mutants in the MCU - The Loop
Play Sound
The 1890s were sometimes referred to as the "Mauve Decade," because William Henry Perkin's aniline dye allowed the widespread use of that colour in fashion, and also as the "Gay Nineties", under the then-current usage of the word "gay" which referred simply to merriment and frivolity, with no connotation of homosexuality as in present-day usage. The phrase, "The Gay Nineties," was not coined until 1926.
Events and trends
[
]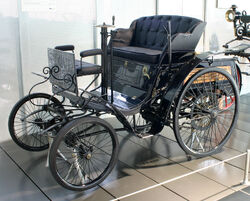 Commerce
[
]
Technology
[
]
Early commercial production of automobiles
People went to movies.
Science
[
]
War, peace and politics
[
]
Culture, religion
[
]
Literature and arts
[
]
Others
[
]
People
[
]
World leaders
[
]
Nasser-al-Din Shah, 1848-1896
Mozzafar-al-Din Shah, 1896-1907
Important people
[
]
Entertainers
[
]
Sports
[
]
Books about the 1890s
[
]
See also
[
]
External links
[
]
This page uses content from the English language Wikipedia. The original content was at 1890s. The list of authors can be seen in the page history. As with this Familypedia wiki, the content of Wikipedia is available under the Creative Commons License.