We're Getting Mutants in the MCU - The Loop
Play Sound
The 3rd century BC started the first day of 300 BC and ended the last day of 201 BC. It is considered part of the Classical era, epoch, or historical period.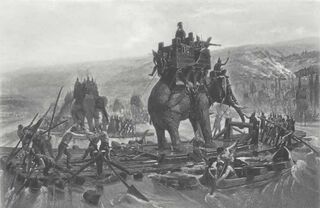 The first few decades of this century were characterized by a balance of power between the Greek Hellenistic kingdoms in the east, and the great mercantile power of Carthage in the west. This balance was shattered when conflict arose between Carthage and the Roman Republic. In the following decades, the Carthaginian Empire was first humbled and then destroyed by the Romans in the first and second Punic wars. Following the Second Punic War, Rome became the most important power in the western Mediterranean.
In the 3rd century BC the Xiong Nu were at the height of their power in Mongolia. The Warring States period in China drew to a close, with Qin Shihuang conquering other nation-states and establishing the Qin dynasty, the first empire of China. The Protohistoric Period began in the Korean peninsula.
Events
[
]
290s BC
[
]
280s BC
[
]
270s BC
[
]
260s BC
[
]
240s BC
[
]
230s BC
[
]
220s BC
[
]
210s BC
[
]
200s BC
[
]
Significant persons
[
]
Inventions, discoveries, introductions
[
]
Evidence
[
]
Much of what we know of this century comes down to us from the works of the Roman historian Polybius, whose main concern is the story of how Rome comes to dominate the known world.
Decades and years
[
]
[[::Decades|Decades]] and [[::Years|Years]]
3rd century BC

[[::5th century BC|5th century BC]] ←[[::4th century BC|4th century BC]] ← ↔ →[[::2nd century BC|2nd century BC]]→[[::1st century BC|1st century BC]]
[[::309–300 BC|309–300 BC

]]

[[::309 BC|309 BC

]]

[[::308 BC|308 BC

]]

[[::307 BC|307 BC

]]

[[::306 BC|306 BC

]]

[[::305 BC|305 BC

]]

[[::304 BC|304 BC

]]

[[::303 BC|303 BC

]]

[[::302 BC|302 BC

]]

[[::301 BC|301 BC

]]

[[::300 BC|300 BC

]]




[[::290s BC|290s BC

]]

[[::299 BC|299 BC

]]

[[::298 BC|298 BC

]]

[[::297 BC|297 BC

]]

[[::296 BC|296 BC

]]

[[::295 BC|295 BC

]]

[[::294 BC|294 BC

]]

[[::293 BC|293 BC

]]

[[::292 BC|292 BC

]]

[[::291 BC|291 BC

]]

[[::290 BC|290 BC

]]




[[::280s BC|280s BC

]]

[[::289 BC|289 BC

]]

[[::288 BC|288 BC

]]

[[::287 BC|287 BC

]]

[[::286 BC|286 BC

]]

[[::285 BC|285 BC

]]

[[::284 BC|284 BC

]]

[[::283 BC|283 BC

]]

[[::282 BC|282 BC

]]

[[::281 BC|281 BC

]]

[[::280 BC|280 BC

]]




[[::270s BC|270s BC

]]

[[::279 BC|279 BC

]]

[[::278 BC|278 BC

]]

[[::277 BC|277 BC

]]

[[::276 BC|276 BC

]]

[[::275 BC|275 BC

]]

[[::274 BC|274 BC

]]

[[::273 BC|273 BC

]]

[[::272 BC|272 BC

]]

[[::271 BC|271 BC

]]

[[::270 BC|270 BC

]]




[[::260s BC|260s BC

]]

[[::269 BC|269 BC

]]

[[::268 BC|268 BC

]]

[[::267 BC|267 BC

]]

[[::266 BC|266 BC

]]

[[::265 BC|265 BC

]]

[[::264 BC|264 BC

]]

[[::263 BC|263 BC

]]

[[::262 BC|262 BC

]]

[[::261 BC|261 BC

]]

[[::260 BC|260 BC

]]




[[::250s BC|250s BC

]]

[[::259 BC|259 BC

]]

[[::258 BC|258 BC

]]

[[::257 BC|257 BC

]]

[[::256 BC|256 BC

]]

[[::255 BC|255 BC

]]

[[::254 BC|254 BC

]]

[[::253 BC|253 BC

]]

[[::252 BC|252 BC

]]

[[::251 BC|251 BC

]]

[[::250 BC|250 BC

]]




[[::240s BC|240s BC

]]

[[::249 BC|249 BC

]]

[[::248 BC|248 BC

]]

[[::247 BC|247 BC

]]

[[::246 BC|246 BC

]]

[[::245 BC|245 BC

]]

[[::244 BC|244 BC

]]

[[::243 BC|243 BC

]]

[[::242 BC|242 BC

]]

[[::241 BC|241 BC

]]

[[::240 BC|240 BC

]]




[[::230s BC|230s BC

]]

[[::239 BC|239 BC

]]

[[::238 BC|238 BC

]]

[[::237 BC|237 BC

]]

[[::236 BC|236 BC

]]

[[::235 BC|235 BC

]]

[[::234 BC|234 BC

]]

[[::233 BC|233 BC

]]

[[::232 BC|232 BC

]]

[[::231 BC|231 BC

]]

[[::230 BC|230 BC

]]




[[::220s BC|220s BC

]]

[[::229 BC|229 BC

]]

[[::228 BC|228 BC

]]

[[::227 BC|227 BC

]]

[[::226 BC|226 BC

]]

[[::225 BC|225 BC

]]

[[::224 BC|224 BC

]]

[[::223 BC|223 BC

]]

[[::222 BC|222 BC

]]

[[::221 BC|221 BC

]]

[[::220 BC|220 BC

]]




[[::210s BC|210s BC

]]

[[::219 BC|219 BC

]]

[[::218 BC|218 BC

]]

[[::217 BC|217 BC

]]

[[::216 BC|216 BC

]]

[[::215 BC|215 BC

]]

[[::214 BC|214 BC

]]

[[::213 BC|213 BC

]]

[[::212 BC|212 BC

]]

[[::211 BC|211 BC

]]

[[::210 BC|210 BC

]]




[[::209–200 BC|209–200 BC

]]

[[::209 BC|209 BC

]]

[[::208 BC|208 BC

]]

[[::207 BC|207 BC

]]

[[::206 BC|206 BC

]]

[[::205 BC|205 BC

]]

[[::204 BC|204 BC

]]

[[::203 BC|203 BC

]]

[[::202 BC|202 BC

]]

[[::201 BC|201 BC

]]

[[::200 BC|200 BC

]]




[[::190s BC|190s BC

]]

[[::199 BC|199 BC

]]

[[::198 BC|198 BC

]]

[[::197 BC|197 BC

]]

[[::196 BC|196 BC

]]

[[::195 BC|195 BC

]]

[[::194 BC|194 BC

]]

[[::193 BC|193 BC

]]

[[::192 BC|192 BC

]]

[[::191 BC|191 BC

]]

[[::190 BC|190 BC

]]



[[::Centuries|Centuries]] and [[::Millennia|Millennia]]
Millennium
Century
Before Christ / Before Common Era (BC/BCE)
[[::4th millennium BC|4th]]:
[[::40th century BC|40th]]
[[::39th century BC|39th]]
[[::38th century BC|38th]]
[[::37th century BC|37th]]
[[::36th century BC|36th]]
[[::35th century BC|35th]]
[[::34th century BC|34th]]
[[::33rd century BC|33rd]]
[[::32nd century BC|32nd]]
[[::31st century BC|31st]]
[[::3rd millennium BC|3rd]]:
[[::30th century BC|30th]]
[[::29th century BC|29th]]
[[::28th century BC|28th]]
[[::27th century BC|27th]]
[[::26th century BC|26th]]
[[::25th century BC|25th]]
[[::24th century BC|24th]]
[[::23rd century BC|23rd]]
[[::22nd century BC|22nd]]
[[::21st century BC|21st]]
[[::2nd millennium BC|2nd]]:
[[::20th century BC|20th]]
[[::19th century BC|19th]]
[[::18th century BC|18th]]
[[::17th century BC|17th]]
[[::16th century BC|16th]]
[[::15th century BC|15th]]
[[::14th century BC|14th]]
[[::13th century BC|13th]]
[[::12th century BC|12th]]
[[::11th century BC|11th]]
[[::1st millennium BC|1st]]:
[[::10th century BC|10th]]
  [[::9th century BC|9th]]
  [[::8th century BC|8th]]
  [[::7th century BC|7th]]
  [[::6th century BC|6th]]
  [[::5th century BC|5th]]
  [[::4th century BC|4th]]
  [[::3rd century BC|3rd]]
  [[::2nd century BC|2nd]]
  [[::1st century BC|1st]]
Anno Domini / Common Era (AD/CE)
[[::1st millennium|1st]]:
  [[::1st century|1st]]
  [[::2nd century|2nd]]
  [[::3rd century|3rd]]
  [[::4th century|4th]]
  [[::5th century|5th]]
  [[::6th century|6th]]
  [[::7th century|7th]]
  [[::8th century|8th]]
  [[::9th century|9th]]
[[::10th century|10th]]
[[::2nd millennium|2nd]]:
[[::11th century|11th]]
[[::12th century|12th]]
[[::13th century|13th]]
[[::14th century|14th]]
[[::15th century|15th]]
[[::16th century|16th]]
[[::17th century|17th]]
[[::18th century|18th]]
[[::19th century|19th]]
[[::20th century|20th]]
[[::3rd millennium|3rd]]:
[[::21st century|21st]]
[[::22nd century|22nd]]
[[::23rd century|23rd]]
[[::24th century|24th]]
[[::25th century|25th]]
[[::26th century|26th]]
[[::27th century|27th]]
[[::28th century|28th]]
[[::29th century|29th]]
[[::30th century|30th]]
[[::4th millennium|4th]]:
[[::31st century|31st]]