We're Getting Mutants in the MCU - The Loop
Play Sound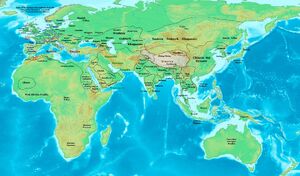 Year 600 in family history, genealogy research and other important world events.
600 was a leap year starting on Friday of the Julian calendar. The denomination 600 for this year has been used since the early medieval period, when the Anno Domini calendar era became the prevalent method in Europe for naming years.
Events
[
]
By Place
[
]
World
[
]
The population of the Earth rises to about 208 million people.
Europe
[
]
Smallpox arrives in Europe for the first time.
Juchau Anglo-Saxon tribesmen on south-eastern coast of England
Asia
[
]
The Persians begin to use windmills for irrigation.
Chaturanga is played in its current form in India.
The Americas
[
]
By Topic
[
]
Arts and Sciences
[
]
Religion
[
]
Births
[
]
Deaths
[
]
This page uses content from the English language Wikipedia. The original content was at 600. The list of authors can be seen in the page history. As with this Familypedia wiki, the content of Wikipedia is available under the Creative Commons License.
People of the year 600 at Familypedia
0 people were born in 600
0 children were born to the 0 women born in 600
0 people died in 600

19 people lived in 600
Events of the year 600 at Familypedia
0 people were married in 600.

There were 0 military battles in 600.