Jurassic World: Dominion Dominates Fandom Wikis - The Loop
Play Sound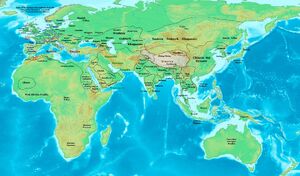 The 7th century is the period from 601 to 700 in accordance with the Julian calendar in the Christian Era.
Overview
[
]
During this century, the Eastern Roman Empire continued suffering setbacks, which increased after the 630s, when the Arab prophet Muhammad established the geographically Islamic state, and set the stage for the rapid expansion of the Arab Empire. Although life in the countryside deteriorated, Constantinople grew to become the largest and wealthiest city in the world. It is estimated that the Plague of Justinian killed as many as 100 million people across the world. It caused the Europe's population to drop by around 50% between 550 and 700. It also may have contributed to the success of the Arabs.[1]
In the Iberian Peninsula, the seventh century was the Siglo de Concilios, that is, century of councils, referring to the Councils of Toledo.
Events
[
]
Significant persons
[
]
Inventions, discoveries, introductions
[
]
Decades and years
[
]
[[::Decades|Decades]] and [[::Years|Years]]
7th century

[[::5th century|5th century]] ←[[::6th century|6th century]] ← ↔ →[[::8th century|8th century]]→[[::9th century|9th century]]
| | | | | | | | | | | |
| --- | --- | --- | --- | --- | --- | --- | --- | --- | --- | --- |
| [[::590s|590s]] | [[::590|590]] | [[::591|591]] | [[::592|592]] | [[::593|593]] | [[::594|594]] | [[::595|595]] | [[::596|596]] | [[::597|597]] | [[::598|598]] | [[::599|599]] |
| [[::600–609|600–609]] | [[::600|600]] | [[::601|601]] | [[::602|602]] | [[::603|603]] | [[::604|604]] | [[::605|605]] | [[::606|606]] | [[::607|607]] | [[::608|608]] | [[::609|609]] |
| [[::610s|610s]] | [[::610|610]] | [[::611|611]] | [[::612|612]] | [[::613|613]] | [[::614|614]] | [[::615|615]] | [[::616|616]] | [[::617|617]] | [[::618|618]] | [[::619|619]] |
| [[::620s|620s]] | [[::620|620]] | [[::621|621]] | [[::622|622]] | [[::623|623]] | [[::624|624]] | [[::625|625]] | [[::626|626]] | [[::627|627]] | [[::628|628]] | [[::629|629]] |
| [[::630s|630s]] | [[::630|630]] | [[::631|631]] | [[::632|632]] | [[::633|633]] | [[::634|634]] | [[::635|635]] | [[::636|636]] | [[::637|637]] | [[::638|638]] | [[::639|639]] |
| [[::640s|640s]] | [[::640|640]] | [[::641|641]] | [[::642|642]] | [[::643|643]] | [[::644|644]] | [[::645|645]] | [[::646|646]] | [[::647|647]] | [[::648|648]] | [[::649|649]] |
| [[::650s|650s]] | [[::650|650]] | [[::651|651]] | [[::652|652]] | [[::653|653]] | [[::654|654]] | [[::655|655]] | [[::656|656]] | [[::657|657]] | [[::658|658]] | [[::659|659]] |
| [[::660s|660s]] | [[::660|660]] | [[::661|661]] | [[::662|662]] | [[::663|663]] | [[::664|664]] | [[::665|665]] | [[::666|666]] | [[::667|667]] | [[::668|668]] | [[::669|669]] |
| [[::670s|670s]] | [[::670|670]] | [[::671|671]] | [[::672|672]] | [[::673|673]] | [[::674|674]] | [[::675|675]] | [[::676|676]] | [[::677|677]] | [[::678|678]] | [[::679|679]] |
| [[::680s|680s]] | [[::680|680]] | [[::681|681]] | [[::682|682]] | [[::683|683]] | [[::684|684]] | [[::685|685]] | [[::686|686]] | [[::687|687]] | [[::688|688]] | [[::689|689]] |
| [[::690s|690s]] | [[::690|690]] | [[::691|691]] | [[::692|692]] | [[::693|693]] | [[::694|694]] | [[::695|695]] | [[::696|696]] | [[::697|697]] | [[::698|698]] | [[::699|699]] |
| [[::700–709|700–709]] | [[::700|700]] | [[::701|701]] | [[::702|702]] | [[::703|703]] | [[::704|704]] | [[::705|705]] | [[::706|706]] | [[::707|707]] | [[::708|708]] | [[::709|709]] |
[[::Centuries|Centuries]] and [[::Millennia|Millennia]]
Millennium
Century
Before Christ / Before Common Era (BC/BCE)
[[::4th millennium BC|4th]]:
[[::40th century BC|40th]]
[[::39th century BC|39th]]
[[::38th century BC|38th]]
[[::37th century BC|37th]]
[[::36th century BC|36th]]
[[::35th century BC|35th]]
[[::34th century BC|34th]]
[[::33rd century BC|33rd]]
[[::32nd century BC|32nd]]
[[::31st century BC|31st]]
[[::3rd millennium BC|3rd]]:
[[::30th century BC|30th]]
[[::29th century BC|29th]]
[[::28th century BC|28th]]
[[::27th century BC|27th]]
[[::26th century BC|26th]]
[[::25th century BC|25th]]
[[::24th century BC|24th]]
[[::23rd century BC|23rd]]
[[::22nd century BC|22nd]]
[[::21st century BC|21st]]
[[::2nd millennium BC|2nd]]:
[[::20th century BC|20th]]
[[::19th century BC|19th]]
[[::18th century BC|18th]]
[[::17th century BC|17th]]
[[::16th century BC|16th]]
[[::15th century BC|15th]]
[[::14th century BC|14th]]
[[::13th century BC|13th]]
[[::12th century BC|12th]]
[[::11th century BC|11th]]
[[::1st millennium BC|1st]]:
[[::10th century BC|10th]]
  [[::9th century BC|9th]]
  [[::8th century BC|8th]]
  [[::7th century BC|7th]]
  [[::6th century BC|6th]]
  [[::5th century BC|5th]]
  [[::4th century BC|4th]]
  [[::3rd century BC|3rd]]
  [[::2nd century BC|2nd]]
  [[::1st century BC|1st]]
Anno Domini / Common Era (AD/CE)
[[::1st millennium|1st]]:
  [[::1st century|1st]]
  [[::2nd century|2nd]]
  [[::3rd century|3rd]]
  [[::4th century|4th]]
  [[::5th century|5th]]
  [[::6th century|6th]]
  [[::7th century|7th]]
  [[::8th century|8th]]
  [[::9th century|9th]]
[[::10th century|10th]]
[[::2nd millennium|2nd]]:
[[::11th century|11th]]
[[::12th century|12th]]
[[::13th century|13th]]
[[::14th century|14th]]
[[::15th century|15th]]
[[::16th century|16th]]
[[::17th century|17th]]
[[::18th century|18th]]
[[::19th century|19th]]
[[::20th century|20th]]
[[::3rd millennium|3rd]]:
[[::21st century|21st]]
[[::22nd century|22nd]]
[[::23rd century|23rd]]
[[::24th century|24th]]
[[::25th century|25th]]
[[::26th century|26th]]
[[::27th century|27th]]
[[::28th century|28th]]
[[::29th century|29th]]
[[::30th century|30th]]
[[::4th millennium|4th]]:
[[::31st century|31st]]
References
[
]