Jurassic World: Dominion Dominates Fandom Wikis - The Loop
Play Sound
Abigail Bourne Winslow was born 21 June 1729 in Barnstable, Barnstable County, Massachusetts to Sylvanus Bourne (1694-1763) and Mercy Gorham (1695-1782) and died 21 December 1761 Kenelm Winslow Homestead, Marshfield, Plymouth County, Massachusetts of unspecified causes. She married Kenelm Winslow (1716-1780) 14 March 1754 in Barnstable, Barnstable County, Massachusetts.
Biography
Kenelm Winslow Homestead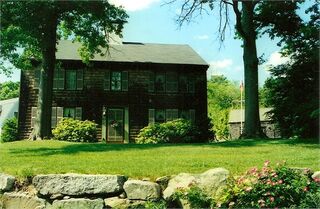 Kenelm Winslow Homestead is settled on a gentle eminence by the sea, near the extremity of a neck of land lying between Green Harbor and South Rivers. This tract of the township was considered the Eden of the region. It was beautified with groves of majestic oaks and graceful walnuts, with the underground void of tangled shrubbery. A few of these groves were standing within the memory of man, but all have now fallen beneath the hand of the woodman.
It would stay with the family for five generations, until their descendants had to flee the country for being loyalists supporters in the Revolutionary War.
Children
Siblings
References
John Howland: Vol 1 - Descendants of Desire Howland Gorham - The First Five Generations; Documented descendants through his first child Desire2 Howland and her husband Captain John Gorham. By Elizabeth Pearson White, CG, FASG, FNGS. 736 pp. Maps, illus, printed endsheets, 12,455 entry Every Name Index. 1990. This prize-winning opus by Elizabeth White documents the multitude of descendants of Mayflower passenger John Howland through his first child, Desire (Howland) Gorham.

Borune in Barnstable County, Massachusetts

- first families history

Abigail Bourne

- disambiguation
Marshfield History - PlymouthColony.net Historical Listings
Residences
Footnotes (including sources)