We're Getting Mutants in the MCU - The Loop
Play Sound
This page collects information about people with surname Adair who were known or believed to have lived in Laurens County, South Carolina.
Notable Individuals
Notable Landmarks
Duncan Creek Presbyterian Church Cemetery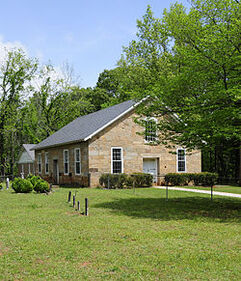 Duncan's Creek Presbyterian Church, also known as Old Rock Church, is a historic Presbyterian Church located near Clinton, Laurens County, South Carolina. It was built in 1842 and is a simple rectangular building constructed of irregular stones. The church was founded by Scotch-Irish settlers and believed to be the oldest church in Laurens County.[1][2]
Many 18th century members of the Adair Family are presumed buried here.
Joseph Adair Family Memorial: Duncan Creek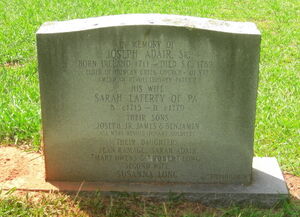 Duncan Creek Presbyterian Church Cemetery, Laurens County, South Carolina Note: This is a memorial, but not an actual gravestone.
IN MEMORY OF JOSEPH ADAIR, SR. BORN IRELAND 1711 - DIED S.C. 1789
ELDER OF DUNCAN CREEK CHURCH - 40 YRS, AMERICAN REVOLUTIONARY PATRIOT
HIS WIFE SARAH LAFERTY OF PA, B. c1715 - D. c1770
THEIR SONS JOSEPH JR., JAMES & BENJAMIN ALL WERE REVOLUTIONARY SOLDIERS
THEIR DAUGHTERS JEAN RAMAGE, SARAH ADAIR,
*MARY OWENS & *ROBERT LONG
SECOND WIFE SUSANNA LONG
* STEPCHILDREN== See Also ==
Research Notes
Us Census
:Note, for the following tables, that there may be more than one county or district of this name and that some contributors may have entered a different (possibly shorter and/or ambiguous) name when this one was meant. Search for similar names to get a more complete result. Common abbreviations are "Co." and "Cty", but there may have been no word for "county" (or equivalent) included, or such a word may have been wrongly included.
Familypedia people with surname Adair in Laurens County, South Carolina

Readers can sort columns using the triangles at top.
Born in Laurens County, South Carolina
 
Birth place
Birth date
Father
Mother
Joined with-g1
Cassandra Adair (1767-1835)
Duncan Creek, Laurens County, South Carolina, United States
23 September 1767
Joseph Adair (1735-1812)
Sarah Dillard (1736-)
Thomas McCrary (1763-1835)
Charity Adair (1770-1826)

Duncans Creek

, Laurens County, South Carolina, United States
1770
Joseph Adair (1735-1812)
Sarah Dillard (1736-)
David Little (1767-1812)
Edmond Adair (1814-1895)
Clinton, Laurens County, South Carolina, United States
14 October 1814
James Adair (1781-1862)
Delilah Eliza Holland (1783-1864)
Susan Dillard (1813-1885)
Eleanor Adair (1774-1845)
Duncan Creek, Laurens County, South Carolina, United States
2 January 1774
James Adair (1748-1818)
Benjamin Ramage (1773-1811)
Elisha Adair (1776-1844)
Duncan Creek, Laurens County, South Carolina, United States
23 November 1776
Joseph Adair (1735-1812)
Sarah Dillard (1736-)
Elizabeth Reese (1772-1850)
James Adair (1770-1840)
Laurens County, South Carolina, United States
4 August 1770
Joseph Adair (1745-1820)
Sarah Lowe (1750-1844)

Rebecca Unknown Adair (c1775-)

James Adair (1752-1818)
Clinton, Laurens County, South Carolina, United States
15 May 1752
Hannah Adair (1750-1826)
James Adair (1781-1862)
Laurens County, South Carolina, United States
15 October 1781
James Adair (1748-1818)
Delilah Eliza Holland (1783-1864)
Jane Adair (1765-1830)
Duncan Creek, Laurens County, South Carolina, United States
30 May 1765
Joseph Adair (1735-1812)
Sarah Dillard (1736-)
Thomas Rutledge Holland (1762-1815)
Joseph Adair (1806-1858)

Laurensville

, Laurens County, South Carolina, United States
11 April 1806
James Adair (1770-1840)

Rebecca Unknown Adair (c1775-)

Rebecca Frances Mangum (1814-1890)
Margaret Ann Adair (1804-1852)
Laurens County, South Carolina
7 February 1804
Thomas Adair (1774-1858)
Rebecca Brown (1776-1846)
William Richey (1796-1879)
Samuel Jefferson Adair (1806-1889)
Laurens County, South Carolina
28 March 1806
Thomas Adair (1774-1858)
Rebecca Brown (1776-1846)
Jemima Catherina Mangum (1809-1848)
Sarah Adair (1775-1855)
Laurens County, South Carolina, United States
5 July 1775
James Adair (1747-1831)
Rebecca Montgomery (1750-1835)
Joseph Hanna (1772-1849)
Thomas Adair (1774-1858)
Laurens County, South Carolina
25 October 1775
Joseph Adair (1745-1820)
Sarah Lowe (1750-1844)
Rebecca Brown (1776-1846)
Baptised in Laurens County, South Carolina
Married in Laurens County, South Carolina
See also

Category:Married in Laurens County, South Carolina
Grouping is for "first marriage", "second marriage", etc as indicated in column headings
 
Birth place
Baptism place
Wedding1 date
Wedding1 place
Joined with-g1
Benjamin Adair (1752-1823)
Pennsylvania, United States
1779
Laurens County, South Carolina
Nancy George (1763-1833)
Cassandra Adair (1767-1835)
Duncan Creek, Laurens County, South Carolina, United States
1784
Duncan Creek, Laurens County, South Carolina, United States
Thomas McCrary (1763-1835)
Charity Adair (1770-1826)

Duncans Creek

, Laurens County, South Carolina, United States
1796
Duncan Creek Presbyterian Church, Laurens County, South Carolina
David Little (1767-1812)
Eleanor Adair (1774-1845)
Duncan Creek, Laurens County, South Carolina, United States
1796
Laurens County, South Carolina
Benjamin Ramage (1773-1811)
Elizabeth Adair (1756-1823)
1783
Laurens County, South Carolina
Robert Long (1760-1840)
Fairby Adair (1809-1836)
Tennessee
1827
Laurens County, South Carolina
Daniel Clark (1800-1832)
James Adair (1770-1840)
Laurens County, South Carolina, United States
1794
Laurens County, South Carolina

Rebecca Unknown Adair (c1775-)

James Adair (1747-1831)
Pennsylvania, United States
1770
Duncan Creek Presbyterian Church, Clinton, Laurens County, South Carolina
Rebecca Montgomery (1750-1835)
James Adair (1748-1818)
Chickasaw Nation
1771
Laurens County, South Carolina

Hannah Unknown (1750-1826)

James W Adair (1826-)
Green County, Kentucky
1860
Laurens County, South Carolina
Elizabeth Little (1836-1906)
James Adair (1781-1862)
Laurens County, South Carolina, United States
1800
Laurens County, South Carolina
Delilah Eliza Holland (1783-1864)
Jane Adair (1765-1830)
Duncan Creek, Laurens County, South Carolina, United States
1788
Laurens County, South Carolina
Thomas Rutledge Holland (1762-1815)
John Adair (1754-1815)
Chickasaw Nation
1775
Laurens County, South Carolina
Nancy Ga-Ho-Ga Lightfoot (1760-1789)
Joseph Adair (1745-1820)
Chickasaw Nation
1770
Laurens County, South Carolina
Sarah Lowe (1750-1844)
Joseph Adair (1735-1812)
Chester County, Pennsylvania, United States
1755
Duncan Creek Presbyterian Church, Laurens County, South Carolina
Sarah Dillard (1736-)
Margaret Elizabeth Adair (1842-1916)
South Carolina, United States
10 August 1865
Laurens County, South Carolina
Bluford Holland (1839-1875)
Nancy Wayman Adair (1805-1877)

Mercersburg

, Franklin County, Pennsylvania, United States
5 November 1826
Laurens County, South Carolina
John Jewel Ramage (1801-1844)
Thomas Adair (1802-1870)
South Carolina, United States
1819
Laurens County, South Carolina, United States
Jane Blakely (1799-1891)
Died in Laurens County, South Carolina
See also

Category:Died in Laurens County, South Carolina
 
Death date
Death place
Birth place
Father
Mother
Joined with
Benjamin Adair (1752-1823)
3 September 1823
Duncan Creek, Laurens County, South Carolina, United States
Pennsylvania, United States
Joseph Adair (1711-1788)
Sarah Laferty (1715-1767)
Nancy George (1763-1833)
Charity Adair (1770-1826)
6 November 1826

Duncans Creek

, Laurens County, South Carolina, United States

Duncans Creek

, Laurens County, South Carolina, United States
Joseph Adair (1735-1812)
Sarah Dillard (1736-)
David Little (1767-1812)
Edmond Adair (1814-1895)
10 October 1895
Clinton, Laurens County, South Carolina, United States
Clinton, Laurens County, South Carolina, United States
James Adair (1781-1862)
Delilah Eliza Holland (1783-1864)
Susan Dillard (1813-1885)
Eleanor Adair (1726-1803)
1803

Duncan's Creek

, Laurens County, South Carolina, United States
United States (Chickasaw Nation)
James Adair (1714-1796)
Eleanor Adair (1774-1845)
1845
Clinton, Laurens County, South Carolina, United States
Duncan Creek, Laurens County, South Carolina, United States
James Adair (1748-1818)
Benjamin Ramage (1773-1811)
Elizabeth Adair (1756-1823)
24 September 1823
Laurens County, South Carolina, United States
Robert Long (1760-1840)
Hannah Adair (1750-1826)
10 November 1826
Clinton, Laurens County, South Carolina, United States
James Adair (1752-1818)
James Adair (1714-1796)
1788
Laurens County, South Carolina, United States
County Antrim, Northern Ireland, United Kingdom (Ulster)
Thomas Adair (c1680-c1740)
Eleanor Adair (1726-1803)
James Adair (1752-1818)
18 August 1818
Laurens County, South Carolina, United States
Clinton, Laurens County, South Carolina, United States
Hannah Adair (1750-1826)
James Adair (1748-1818)
18 August 1818
Laurens County, South Carolina
Chickasaw Nation
James Adair (1714-1796)
Eleanor Adair (1726-1803)

Hannah Unknown (1750-1826)

James Adair (1781-1862)
2 June 1862
Laurens County, South Carolina, United States
Laurens County, South Carolina, United States
James Adair (1748-1818)
Delilah Eliza Holland (1783-1864)
Jane Adair (1765-1830)
25 July 1830
Laurens County, South Carolina, United States
Duncan Creek, Laurens County, South Carolina, United States
Joseph Adair (1735-1812)
Sarah Dillard (1736-)
Thomas Rutledge Holland (1762-1815)
Jean Adair (1738-1805)
1805

Duncans Creek

, Laurens County, South Carolina, United States
Chester County, Pennsylvania, United States
Joseph Adair (1711-1788)
Sarah Laferty (1715-1767)
John Ramage (1720-1799)
Joseph Adair (1735-1812)
17 October 1812
Laurens County, South Carolina, United States
Chester County, Pennsylvania, United States
Joseph Adair (1711-1788)
Sarah Laferty (1715-1767)
Sarah Dillard (1736-)
Joseph Adair (1745-1820)
5 February 1804
Duncan Creek, Laurens County, South Carolina
Chickasaw Nation
James Adair (1714-1796)
Eleanor Adair (1726-1803)
Sarah Lowe (1750-1844)
Joseph Adair (1711-1788)
1788
Laurens County, South Carolina, United States
County Antrim, Ireland
Thomas Adair (c1680-c1740)

Sarah Laferty (1715-1767)+ Susanna Murdough (1723-1800)

Margaret Elizabeth Adair (1842-1916)
1916
Duncan Creek, Laurens County, South Carolina, United States
South Carolina, United States
Thomas Adair (1802-1870)
Jane Blakely (1799-1891)
Bluford Holland (1839-1875)
Sarah Adair (c1754-1788)
1788
Laurens County, South Carolina, United States
Pennsylvania, United States
Joseph Adair (1711-1788)
Sarah Laferty (1715-1767)
Thomas Adair (1802-1870)
1870
Laurens County, South Carolina, United States
South Carolina, United States
Elisha Adair (1776-1844)
Elizabeth Reese (1772-1850)
Jane Blakely (1799-1891)
William Adair (c1718-1812)
1812
Laurens County, South Carolina, United States
County Antrim, Ireland
Thomas Adair (c1680-c1740)
Mary Moore (1729-1797)
Buried in Laurens County, South Carolina
 
Remains date
Remains place
Birth place
Baptism place
Father
Mother
Joined with
Benjamin Adair (1752-1823)
9999
Duncan Creek Presbyterian Church Cemetery, Laurens County, South Carolina
Pennsylvania, United States
Joseph Adair (1711-1788)
Sarah Laferty (1715-1767)
Nancy George (1763-1833)
Charity Adair (1770-1826)
9999
Duncan Creek Presbyterian Church Cemetery, Laurens County, South Carolina

Duncans Creek

, Laurens County, South Carolina, United States
Joseph Adair (1735-1812)
Sarah Dillard (1736-)
David Little (1767-1812)
Hannah Adair (1750-1826)
9999
Laurens County, South Carolina
James Adair (1752-1818)
James Adair (1752-1818)
9999
Duncan Creek Presbyterian Church Cemetery, Laurens County, South Carolina
Clinton, Laurens County, South Carolina, United States
Hannah Adair (1750-1826)
Joseph Adair (1735-1812)
9999
Duncan Creek Presbyterian Church Cemetery, Laurens County, South Carolina
Chester County, Pennsylvania, United States
Joseph Adair (1711-1788)
Sarah Laferty (1715-1767)
Sarah Dillard (1736-)