We're Getting Mutants in the MCU - The Loop
Play Sound
This page collects information about people with surname Adams who were known or believed to have lived in Middlesex County, Massachusetts.
Notable Individuals
Notable Landmarks
External Links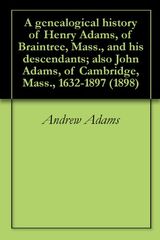 See Also
:Note, for the following tables, that there may be more than one county or district of this name and that some contributors may have entered a different (possibly shorter and/or ambiguous) name when this one was meant. Search for similar names to get a more complete result. Common abbreviations are "Co." and "Cty", but there may have been no word for "county" (or equivalent) included, or such a word may have been wrongly included.
Familypedia people with surname Adams in Middlesex County, Massachusetts

Readers can sort columns using the triangles at top.
Born in Middlesex County, Massachusetts
 
Birth place
Birth date
Father
Mother
Joined with-g1
Ephraim Adams (1769-1820)

LIncoln

, Middlesex County, Massachusetts, United States
11 August 1769
John Marshall Adams (1723-1809)
Lucy Hubbard (1730-1791)
Martha Mason (1777-1813)
George Adams (1648-1733)
Watertown, Middlesex County, Massachusetts
19 June 1648

George Adams (1620-1696)

Frances Taylor (1623-1696)

Martha Fiske (1666-1733)
George Neville Adams (1685-1767)
Watertown, Middlesex County, Massachusetts
28 April 1685
George Adams (1648-1733)
Martha Fiske (1666-1733)
Judith Bullen (1689-1759)
Hannah Adams (1755-1831)
Medford, Middlesex County, Massachusetts, United States
2 October 1755
Thomas Adams (1725-1812)
Elizabeth Clark (1734-1767)
Henry Adams (1684-1753)
Chelmsford, Middlesex County, Massachusetts
1684
Samuel Adams (1652-1727)
Mary Meeker (1656-1718)
Sarah Adams (1683-1753)
Isaac Adams (1696-1757)
Sudbury, Middlesex County, Massachusetts
1696
Richard Adams (1651-1728)
Rebecca Davis (1658-)

Eleanor Adams (1712-1784)

James Adams (1715-1755)
Sherborn, Middlesex County, Massachusetts, United States
13 March 1715
James Adams (1693-1729)
Abigail Hill (1694-1736)
Rebecca Fairbanks (1723-1792)
James Adams (1693-1729)
Sherborn, Middlesex County, Massachusetts
7 July 1693
Moses Adams (1654-1724)
Lydia Whitney (1657-1719)
Abigail Hill (1694-1736)
John Marshall Adams (1723-1809)
Concord, Middlesex County, Massachusetts, United States
11 December 1723
John Adams (1705-1787)
Love Minot (1702-1772)
Lucy Hubbard (1730-1791)
Lydia Adams (1706-1771)
Waltham, Middlesex County, Massachusetts, United States
9 July 1706
George Neville Adams (1685-1767)
Judith Bullen (1689-1759)
Caleb Pond (1697-1771)
Mary Adams (1741-1827)
Concord, Middlesex County, Massachusetts
14 March 1741

Joseph Adams (1702-1790)

Precilla Russell (1705-1765)

Isaac Appleton (1731-1806)
Mary Adams (1652-1681)
Cambridge, Middlesex County, Massachusetts
25 October 1652
John Adams (1622-1706)
Anne Howe (1624-1714)
John Eames (1642-1733)
Pelatiah Adams (1646-1725)
Concord, Middlesex County, Massachusetts, United States
6 January 1646
Thomas Adams (1612-1688)
Mary Blackmore (1613-1695)
Ruth Parker (1655-1719)
Samuel Adams (1652-1727)
Chelmsford, Middlesex County, Massachusetts
23 November 1652
Thomas Adams (1612-1688)
Mary Blackmore (1613-1695)
Mary Meeker (1656-1718)
Samuel Adams (1752-1838)
Sherborn, Middlesex County, Massachusetts, United States
30 December 1752
James Adams (1715-1755)
Rebecca Fairbanks (1723-1792)
Elizabeth Newhall (1756-1850)
Sarah Adams (1683-1753)
Sudbury, Middlesex County, Massachusetts
8 May 1683
Richard Adams (1651-1728)
Rebecca Davis (1658-)
Henry Adams (1684-1753)
Baptised in Middlesex County, Massachusetts
Married in Middlesex County, Massachusetts
Grouping is for "first marriage", "second marriage", etc as indicated in column headings
 
Birth place
Baptism place
Wedding1 date
Wedding1 place
Joined with-g1
Charles Francis Adams (1807-1886)
Boston, Suffolk County, Massachusetts, United States
3 September 1829
Mystic Grove, Medford, Middlesex County, Massachusetts
Abigail Brown Brooks (1808-1889)
Daniel Adams (1750-1832)
Norfolk County, Massachusetts, United States
30 January 1772
Holliston, Middlesex County, Massachusetts, United States
Martha Watkins (1751-1789)
George Adams (1648-1733)
Watertown, Middlesex County, Massachusetts
28 February 1683
Lexington, Middlesex County, Massachusetts
Martha Fiske (1666-1733)
George Neville Adams (1685-1767)
Watertown, Middlesex County, Massachusetts
1705
Lexington, Middlesex County, Massachusetts
Judith Bullen (1689-1759)
Isaac Adams (1696-1757)
Sudbury, Middlesex County, Massachusetts
17 February 1727
Sudbury, Middlesex County, Massachusetts

Eleanor Adams (1712-1784)

James Adams (1715-1755)
Sherborn, Middlesex County, Massachusetts, United States
27 November 1739
Sherborn, Middlesex County, Massachusetts
Rebecca Fairbanks (1723-1792)
James Adams (1693-1729)
Sherborn, Middlesex County, Massachusetts
1 January 1712
Sherborn, Middlesex County, Massachusetts
Abigail Hill (1694-1736)
John Marshall Adams (1723-1809)
Concord, Middlesex County, Massachusetts, United States
12 December 1749
Concord, Middlesex County, Massachusetts, United States
Lucy Hubbard (1730-1791)
Mary Adams (1741-1827)
Concord, Middlesex County, Massachusetts
24 April 1760
Concord, Middlesex County, Massachusetts
Isaac Appleton (1731-1806)
Mary Adams (1652-1681)
Cambridge, Middlesex County, Massachusetts
3 April 1676
Watertown, Middlesex County, Massachusetts
John Eames (1642-1733)
Pelatiah Adams (1646-1725)
Concord, Middlesex County, Massachusetts, United States
1670
Chelmsford, Middlesex County, Massachusetts, United States
Ruth Parker (1655-1719)
Richard Adams (1651-1728)
Scituate, Plymouth County, Massachusetts
24 June 1679
Sudbury, Middlesex County, Massachusetts
Rebecca Davis (1658-)
Ursula Adams (1619-1679)

Barton St David

, Somerset, England
5 October 1640
Gloucester, Middlesex County, Massachusetts
Stephen Streeter (1600-1652)
 
Birth place
Baptism place
Wedding2 date
Wedding2 place
Joined with-g2
Henry Adams (1663-1749)
Medway, Norfolk County, Massachusetts
28 October 1735
Cambridge, Middlesex County, Massachusetts

Dana Hannah (1685-1748)

John Marshall Adams (1723-1809)
Concord, Middlesex County, Massachusetts, United States
28 February 1794
Lincoln, Middlesex County, Massachusetts
Beulah Dakin (1735-1807)
Moses Adams (1654-1724)
Medfield, Suffolk County, Massachusetts
15 April 1684
Sherborn, Middlesex County, Massachusetts
Lydia Whitney (1657-1719)
Ursula Adams (1619-1679)

Barton St David

, Somerset, England
19 July 1657
Charlestown, Middlesex County, Massachusetts
Samuel Hosier (1614-1665)
Died in Middlesex County, Massachusetts
 
Death date
Death place
Birth place
Father
Mother
Joined with
George Adams (1648-1733)
17 February 1733
Lexington, Middlesex County, Massachusetts
Watertown, Middlesex County, Massachusetts

George Adams (1620-1696)

Frances Taylor (1623-1696)

Martha Fiske (1666-1733)
George Neville Adams (1685-1767)
8 February 1767
Watertown, Middlesex County, Massachusetts
Watertown, Middlesex County, Massachusetts
George Adams (1648-1733)
Martha Fiske (1666-1733)
Judith Bullen (1689-1759)
Henry Adams (1609-1676)
21 February 1676
Medfield, Middlesex County, Massachusetts

Barton St. David

, Somerset, England
Henry Adams (1582-1646)
Edith Squire (1587-1673)
Elizabeth Paine (1620-1676)
James Adams (1715-1755)
1755
Sherborn, Middlesex County, Massachusetts, United States
Sherborn, Middlesex County, Massachusetts, United States
James Adams (1693-1729)
Abigail Hill (1694-1736)
Rebecca Fairbanks (1723-1792)
James Adams (1693-1729)
14 January 1729
Sherborn, Middlesex County, Massachusetts
Sherborn, Middlesex County, Massachusetts
Moses Adams (1654-1724)
Lydia Whitney (1657-1719)
Abigail Hill (1694-1736)
John Adams (1875-1964)
30 August 1964
Concord, Middlesex County, Massachusetts
Quincy, Norfolk County, Massachusetts
Charles Francis Adams (1835-1915)
Mary Hone Ogden (1837-1905)
Marian Morse (1878-1959)
John Adams (1622-1706)
June 1706
Cambridge, Middlesex County, Massachusetts

Kingweston

, Somerset, England
Henry Adams (1582-1646)
Edith Squire (1587-1673)
Anne Howe (1624-1714)
John Marshall Adams (1723-1809)
17 January 1809
Lincoln, Middlesex County, Massachusetts, United States
Concord, Middlesex County, Massachusetts, United States
John Adams (1705-1787)
Love Minot (1702-1772)

Lucy Hubbard (1730-1791)+ Beulah Dakin (1735-1807)

Lydia Adams (1706-1771)
1771
Watertown, Middlesex County, Massachusetts, United States
Waltham, Middlesex County, Massachusetts, United States
George Neville Adams (1685-1767)
Judith Bullen (1689-1759)
Caleb Pond (1697-1771)
Mary Adams (1652-1681)
3 April 1681
Watertown, Middlesex County, Massachusetts
Cambridge, Middlesex County, Massachusetts
John Adams (1622-1706)
Anne Howe (1624-1714)
John Eames (1642-1733)
Moses Adams (1654-1724)
27 May 1724
Sherborn, Middlesex County, Massachusetts
Medfield, Suffolk County, Massachusetts
Henry Adams (1609-1676)
Elizabeth Paine (1620-1676)

Marie Fairbanks (1659-1681) + Lydia Whitney (1657-1719)

Pelatiah Adams (1646-1725)
29 April 1725
Chelmsford, Middlesex County, Massachusetts, United States
Concord, Middlesex County, Massachusetts, United States
Thomas Adams (1612-1688)
Mary Blackmore (1613-1695)
Ruth Parker (1655-1719)
Thomas Adams (1612-1688)
20 July 1688
Chelmsford, Middlesex County, Massachusetts

Barton St James

, Somerset, England
Henry Adams (1582-1646)
Edith Squire (1587-1673)
Mary Blackmore (1613-1695)
Thomas Boylston Adams (1910-1997)
4 June 1997
Lincoln, Middlesex County, Massachusetts, United States
Kansas City, Jackson County, Missouri, United States
John Adams (1875-1964)
Marian Morse (1878-1959)
Ramelle Frost Cochrane (1916-2004)
Ursula Adams (1619-1679)
19 July 1679
Charlestown, Middlesex County, Massachusetts

Barton St David

, Somerset, England
Henry Adams (1582-1646)
Edith Squire (1587-1673)

Stephen Streeter (1600-1652) + Samuel Hosier (1614-1665) + William Robinson (1615-1668) + Griffin Craft (1600-1689)
Buried in Middlesex County, Massachusetts
 
Remains date
Remains place
Birth place
Baptism place
Father
Mother
Joined with
Hannah Adams (1755-1831)
9999
Mount Auburn Cemetery, Cambridge, Middlesex County, Massachusetts, United States
Medford, Middlesex County, Massachusetts, United States
Thomas Adams (1725-1812)
Elizabeth Clark (1734-1767)
John Marshall Adams (1723-1809)
9999

Town Hill Cemetery

, Middlesex County, Massachusetts
Concord, Middlesex County, Massachusetts, United States
John Adams (1705-1787)
Love Minot (1702-1772)

Lucy Hubbard (1730-1791)+ Beulah Dakin (1735-1807)