The Sandman Will Keep You Awake - The Loop
Play Sound
This page collects information about people with surname Adams who were known or believed to have lived in Plymouth County, Massachusetts.
Notable Individuals
Early English Immigrants
Notable Landmarks
Green Harbor Monument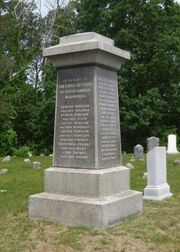 John Adams (1630-1703) is listed in memorium on the Green Harbor Monument, located in Marshfield, Massachusetts and dedicated in honor of the early colonists from Plymouth Colony who settled this area in the early 1600s.
External Links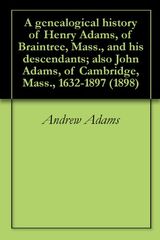 See Also
:Note, for the following tables, that there may be more than one county or district of this name and that some contributors may have entered a different (possibly shorter and/or ambiguous) name when this one was meant. Search for similar names to get a more complete result. Common abbreviations are "Co." and "Cty", but there may have been no word for "county" (or equivalent) included, or such a word may have been wrongly included.
Familypedia people with surname Adams in Plymouth County, Massachusetts

Readers can sort columns using the triangles at top.
Born in Plymouth County, Massachusetts
|   | Birth place | Birth date | Father | Mother | Joined with-g1 |
| --- | --- | --- | --- | --- | --- |
| Ebenezer Adams (1744-1820) | Kingston, Plymouth County, Massachusetts, United States | 17 November 1744 | John Adams (1714-1806) | Thankful Washburn (1714-1805) | Lydia Cooke (1744-1829) |
| James Adams (1626-1653) | Plymouth, Plymouth County, Massachusetts | 10 June 1626 | John Adams (1595-1633) | Eleanor Newton (1598-1681) | Frances Vassall (1622-1673) |
| John Adams (1630-1703) | Plymouth, Plymouth County, Massachusetts | 11 December 1630 | John Adams (1595-1633) | Eleanor Newton (1598-1681) | Jane James (1634-1664) |
| John Adams (1714-1806) | Kingston, Plymouth County, Massachusetts, United States | 14 June 1714 | Francis Adams (1677-1758) | Mary Buck (1684-1769) | Thankful Washburn (1714-1805) |
| Lydia Adams (1775-1872) | Kingston, Plymouth County, Massachusetts, United States | 28 July 1775 | Ebenezer Adams (1744-1820) | Lydia Cooke (1744-1829) | William Holmes (1770-1841) |
| Richard Adams (1651-1728) | Scituate, Plymouth County, Massachusetts | 19 April 1651 | James Adams (1626-1653) | Frances Vassall (1622-1673) | Rebecca Davis (1658-) |
Baptised in Plymouth County, Massachusetts
Married in Plymouth County, Massachusetts
Grouping is for "first marriage", "second marriage", etc as indicated in column headings
|   | Birth place | Baptism place | Wedding1 date | Wedding1 place | Joined with-g1 |
| --- | --- | --- | --- | --- | --- |
| Ebenezer Adams (1744-1820) | Kingston, Plymouth County, Massachusetts, United States | | 3 November 1766 | Kingston, Plymouth County, Massachusetts | Lydia Cooke (1744-1829) |
| Francis Adams (1677-1758) | St Peters Church, Chester, Cheshire, England, United Kingdom | | 1700 | Plymouth County, Massachusetts | Mary Buck (1684-1769) |
| James Adams (1626-1653) | Plymouth, Plymouth County, Massachusetts | | 16 June 1646 | Scituate, Plymouth County, Massachusetts | Frances Vassall (1622-1673) |
| John Adams (1595-1633) | Shropshire, England | | 1623 | Plymouth, Plymouth County, Massachusetts | Eleanor Newton (1598-1681) |
| John Adams (1630-1703) | Plymouth, Plymouth County, Massachusetts | | 27 December 1654 | Marshfield, Plymouth County, Massachusetts | Jane James (1634-1664) |
| John Adams (1714-1806) | Kingston, Plymouth County, Massachusetts, United States | | 1 March 1739 | Kingston, Plymouth County, Massachusetts | Thankful Washburn (1714-1805) |
| Lydia Adams (1775-1872) | Kingston, Plymouth County, Massachusetts, United States | | 26 March 1795 | Kingston, Plymouth County, Massachusetts | William Holmes (1770-1841) |
Died in Plymouth County, Massachusetts
|   | Death date | Death place | Birth place | Father | Mother | Joined with |
| --- | --- | --- | --- | --- | --- | --- |
| Ebenezer Adams (1744-1820) | 24 September 1820 | Kingston, Plymouth County, Massachusetts, United States | Kingston, Plymouth County, Massachusetts, United States | John Adams (1714-1806) | Thankful Washburn (1714-1805) | Lydia Cooke (1744-1829) |
| Francis Adams (1677-1758) | 16 April 1758 | Kingston, Plymouth County, Massachusetts, United States | St Peters Church, Chester, Cheshire, England, United Kingdom | Richard Adams (1649-1691) | Mary Parnell (1655-) | Mary Buck (1684-1769) |
| John Adams (1595-1633) | 11 January 1633 | Plymouth, Plymouth County, Massachusetts | Shropshire, England | William Adams (1555-1624) | Elizabeth Alice Borrington (1557-1625) | Eleanor Newton (1598-1681) |
| John Adams (1630-1703) | 19 January 1703 | Marshfield, Plymouth County, Massachusetts | Plymouth, Plymouth County, Massachusetts | John Adams (1595-1633) | Eleanor Newton (1598-1681) | Jane James (1634-1664) + Elizabeth Russell (1644-1702) |
| John Adams (1714-1806) | 15 April 1806 | Kingston, Plymouth County, Massachusetts, United States | Kingston, Plymouth County, Massachusetts, United States | Francis Adams (1677-1758) | Mary Buck (1684-1769) | Thankful Washburn (1714-1805) |
Buried in Plymouth County, Massachusetts