Agnes Carpenter Fuller was born 16 December 1593 in Wrington, Somerset, England, United Kingdom to Alexander Carpenter (1556-) and died 3 July 1615 Leiden, Zuid-Holland, Netherlands of unspecified causes. She married Samuel Fuller (1580-1633) 1614 in Leiden, South Holland, Netherlands.
Siblings
Research Notes
Pieterskerk Memorial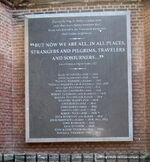 Pieterskerk Pilgrim Memorial located on the great Pieterskerk in Leiden lists this family members who lived died at the Pilgrim settlement here. This place was At one time a center of activity for the over 300 Leiden Pilgrims lived here in the early 1600s after escaping from religious persecution in England.
Residences
Footnotes (including sources)