Biography
Albern Allen was born 22 May 1802 in Cornwall, Litchfield County, Connecticut, United States to Daniel Allen (1777-1835) and Clarissa Dewey (1780-1806) and died 3 June 1867 Ogden, Weber County, Utah, United States of unspecified causes. He married Marcia Allen (1804-1866) 25 December 1826 in Hartwick, Otsego County, New York, United States. He married Mary Ann Hoopes (1811-1903) 21 February 1852 in Salt Lake City, Salt Lake County, Utah. He married Mary Jane Morris (1819-1893) 13 November 1853 in Salt Lake City, Salt Lake County, Utah. He married Jane Elizabeth Hill (1841-1909) 29 January 1856 in Salt Lake City, Salt Lake County, Utah.
Albern Allen came to Utah 16 October 1847 with the Mormon Battalion from California. He was a missionary; President of the 33rd Quorum of Seventies at Nauvoo in 1846. A member of Company A Mormon Battalion; Settled at Ogden, Utah in 1849; member of the High Council; assisted in bringing immigrants to Utah in 1857; chosen to preside over the little settlement of Genoa--about 100 miles west of Florence [Nebraska]-- a supply station and assembly place for mountain bound immigrants and Utah Pioneers.
Early Life
But by the time he was four years of age, we know Daniel Allen had moved to Hartwick, Otsego, New York, as evidenced by his younger brother, Daniel Dewey being born there. Yes, that would mean that Daniel had either remarried by then, or Clarissa didn't die until about 1806 but this hasn't been resolved yet. One thing we do know is that Albern met, fell in love, and married Marcia Allen (6Nov1804-25Feb1866) sometime in 1826 in that same county. Marcia and Albern were not related, even though they shared the same last names. Records going back eight generations show their lines going different directions.
Missouri Persecutions
At some point, Albern and Marcia moved to Cattaraugus, Cattaraugus, New York, and joined The Church of Jesus Christ of Latter-day Saints in 1835 (2). Following his baptism, he and his family migrated from New York to Missouri to be with the Saints. They settled in Caldwell County, Missouri, in 1836. In July 1838 Albern was ordained a seventy by Joseph Young (Early Church File). Just a few months later, the terrible persecutions of the Missouri saints reached their peak, beginning with the slaughter at Haun's Mill.
Nauvoo Period
They were forced to leave their homes and belongings and move on in the middle of winter. So, in the winter of 1838-39 he and his family fled from religious persecution to Adams County, Illinois. In doing so, they were forced to sign over their Missouri property of 80 acres to the mob. Several sources show that Albern filed a petition on 7 January, 1840 before justice William Laughlin of Adams County, IL, seeking $1320 in redress for his suffering in Missouri (Johnson, Missouri Petitions)(4) . The petition included $150 to leave the state, $600 for land, $100 in stock, $50 in beef and pork, $20 for farming utensils, $400 moving because of extermination order (5).
He and his family resided in Nauvoo, Hancock County, Illinois, from 1840 through 1846. There he paid taxes and bought property (Nauvoo City Tax Lists; Nauvoo Property Transactions). He was a member of the Nauvoo 3rd Ward and served as a lieutenant in the Nauvoo Legion (6). The picture shown here is at the address listed for Albern Allen in Nauvoo. It is uncertain how much of it is of original materials.
Albern left Nauvoo to serve a short mission to the southern states. Upon his return to Nauvoo, he participated in temple ordinance work, including baptismal ordinances for his father, Daniel Allen; his uncle, Orlo Allen; and his cousin, Sally Comstock (7). He received the endowment on 1 January, 1846 and was sealed to his wife Marcia Allen on 24 January 1846 in the Nauvoo Temple (8). Albern was called to be the senior president of the Thirty-third Quorum of the Seventy in 1846 (Jenson, Church Chronology). Life in Nauvoo was beautiful. The Allen family prospered along with the growing and thriving city of Nauvoo. But those six years of prosperity and happiness ended abruptly also when the mobs drove them from that city.
We don't have any record of Albern's work while in Nauvoo, but we do know he was skilled at making ox bows. Thomas Bullock kept a journal and made the following statement concerning Albern: "Attending the oxen in the wood all day also in the evening assisting Albern Allen to make the ox bows. Harder work than I've been used to. Beautiful day." This sounds like our Albern was used to hard work. The picture of the ox yoke shows the bent wooden bows fitted in the yoke to keep the oxen harnessed to the wagon (9).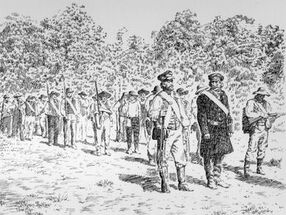 Participant in the march of The Mormon Battalion. This unit of the US Army served in the Mexican-American War and was the only religiously based infantry unit ever created by Presidential order. It consisted of nearly 500 men recruited exclusively from The Church of Jesus Christ of Latter-day Saints (commonly called the Mormons). They undertook the longest infantry march in U.S. military history (as of 1847) and in the process marked out and creating the first continuous wagon road to California which linked the future states of New Mexico, Arizona, and California to the United States. Most members served an initial 12 month term (Jul 1846- Jul 1847) with some members re-enlisting for an additional 12 months afterwards.
The Nauvoo exodus began on April 2, 1846 in a cold snowstorm. The destitute saints had run out of supplies, resources, and had little hope of any source of income by this time. But the national scene was focused on Mexico and that would prove a boon to the starving and freezing saints. The next month saw some skirmishes with Mexico and the United States declared war on Mexico on May 13. That opened a door of opportunity for the saints to join in the war and provide for their families during these difficult times. After arriving in Council Bluffs, Albern and his oldest son, Rufus Chester, enlisted in the Mormon Battalion in Company "A". At the time of their enlistment, Marcia, with her aged parents, brothers and sisters, and the rest of the children, were ill in a wagon. It is difficult to imagine how hard it must have been for these two men to leave their families in such desperate circumstances (10).
Again, quoting from the pioneer records of Nauvoo: "As father and son marched with the Battalion they were often asked to serve picket guard duty. On 17 December, 1846, near Tucson, they were instructed to fire an alarm and run into camp if more than a dozen Mexicans passed in or out of town. About midnight Albern and Rufus fired their signal guns (Tyler, Concise, 228-29). Excitedly, Lieutenant George Oman shouted, "Beat that drum, beat that drum--if you can't beat that drum, beat that fife." Within ten minutes the men formed a battle line on either side of the road (Pace Diary, 17 Dec., 1846; Dunn Journal, 17 Dec., 1846). Fortunately, the signal proved a false alarm, and no battle ensued.
Albern marched with the Battalion from Tucson to Ciudad de los Angeles where he was discharged on 16 July,1847. After being discharged, he and his son migrated to the Salt Lake Valley via Fort Hall in 1847. In 1848 they met their family about one hundred miles east of Fort Laramie, on the Platte River. There they learned that two of Albern's younger children (Rachel, age 10, and Sarah Ann, age 3) had died in Winter Quarters, Nebraska Territory (11).
Later Years
The family migrated from Wyoming to Utah. They located in Ogden, Weber County, in 1849. By 1850 Albern was considered Ogden's most notable farmer, even though his real wealth was only $50 (Utah Federal Census, 1850). He produced 450 bushels of wheat, 40 bushels of Indian corn, 50 bushels of corn, 100 bushels of potatoes, 25 bushels of buckwheat, 100 pounds of butter, and 250 pounds of cheese on a twenty-acre farm valued at fifty dollars (12).
Albern served as a president of the Thirty-third Quorum of the Seventy. He represented Weber County in the Utah Legislature for two terms. He was also a member of the Weber Stake High Council (13). During these busy years, he participated in the law of plural marriage with Mary Ann Hoops Yearsley, Mary Jane Morris, and Jane Elizabeth Hill (TIB).
The following is quoted from an article from the Nauvoo Visitor Center: "On 19 April,1857 Albern was given his patriarchal blessing by James Lake (patriarchal Blessing Index, 701: 19). Later that spring he accepted a mission call to Canada. He crossed the plains pushing his possessions in a handcart. In Genoa, Nance County, Nebraska, he was asked by Apostles John Taylor and Erastus Snow to remain in Genoa and preside over a small branch of the Church (Carter, Treasures, 2:430). He presided in Genoa until 1858 when he returned to Ogden having never served his mission in Canada . . . "
Children
Offspring of Albern Allen and

Mary Ann Hoopes (1811-1903)

Name
Birth
Death
Joined with

Marcia Ann Allen (1854-1930)
Offspring of Albern Allen and

Mary Jane Morris (1819-1893)

Name
Birth
Death
Joined with

Albern Allen (1854-1924)
Offspring of Albern Allen and

Jane Elizabeth Hill (1841-1909)

Name
Birth
Death
Joined with

Sariah Maria Allen (1859-1940)




Isada Allen (1861-)




Martha Allen (1862-1864)




Elizabeth Allen (1867-)
Siblings
Residences
See Also
Albern Allen

Allen in Otsego County, New York

Allen in Litchfield County, Connecticut
Footnotes (including sources)