Albert Clements was born 19 March 1801 in Fort Ann, Washington County, New York, United States to James H Clements (1780-1866) and Lucy Owen (1781-1851) and died 20 April 1883 Springville, Utah County, Utah, United States of unspecified causes. He married Aldah Winchell (1801-1890) 21 January 1821 in Fort Ann, Washington County, New York, United States.
Biography
Albert Clements resided in New York from 1822 to 1834. He joined The Church of Jesus Christ of Latter-day Saints in 1832 and moved to Ohio to be with the Saints. Albert became a member of Zion's Camp on 10 May 1834 at Mansfield, Ohio. He moved to Missouri and endured the religious persecutions in Clay County and Caldwell counties before fleeing to Illinois. He resided at Nauvoo, Illinois, in 1842 and was a member of the Nauvoo Fourth Ward. He supported his family as a farmer. Albert was a friend and follower of Sydney Rigdon and was baptized a member of the Reorganized Church of Jesus Christ of Latter Day Saints on 28 February 1861 by G. R. Outhouse. He was confirmed by John McIntosh and Cornelius McIntosh. He attended scattered branches in Iowa. His was divorced from his wife who travelled west with the Saints but later came to Salt Lake City and was reunited and sealed to her in the Endowment House.
Zions Camp Participant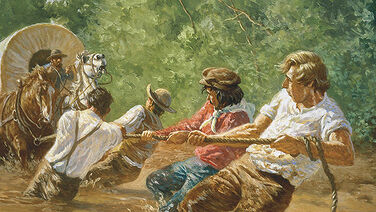 One of the most interesting episodes in the early history of LDS Church was the march of Zion's Camp (1834). The members of the Church in Missouri were being persecuted, and the Prophet Joseph made it a matter of prayer and received a revelation on February 24, 1834. The Lord instructed the Prophet to assemble at least one hundred young and middle-aged men and to go to the land of Zion, or Missouri. (See D&C 130:19–34.)
Zion's Camp, a group of approximately one hundred and fifty men, gathered at Kirtland, Ohio, in the spring of 1834 and marched to Jackson County, Missouri. By the time they reached Missouri, the camp had increased to approximately two hundred men.
Albert was a member of Orson Hyde (1805-1878)'s Company in Zions Camp. His wife was one of the women in the camp.
LDS Biographical Encyclopedia
LDS Biographical Encyclopedia, Andrew Jenson, Vol. 4, p. 688
Clements, Albert, a member of Zion's Camp, was born March 19, 1801, in Fort Ann, New York, a son of James Clements. He came to Florence, Ohio, in 1833, in company with Alanson Ripley; remained there till the beginning of May, 1834, and as he wanted to come to Missouri anyway with his family. Joined Milo Andrus, and proceeded to Missouri, and passed through all the persecutions in Missouri with the other Latter-day Saints. He joined Zion's Camp at Mansfield, Ohio, May 10, 1834, and became a member of Orson Hyde's company. In 1852 his family came to Utah where he joined them in 1872. He died April 9, 1882, in Springville, Utah, as a faithful member of the Church.
Children
Offspring of Albert Clements and Aldah Winchell (1801-1890)
Name
Birth
Death
Joined with

Alvin Clements (1822-1855)




Lucy Clements (1825-1905)




James Clements (1827-1827)




Paul Clements (1829-1844)




James Clements (1833-1877)




Eliza Clements (1834-1915)




Elizabeth Clements (1836-1924)




Ada Clements (1839-1877)




Albert Nephi Clements (1842-1921)
Siblings
Footnotes (including sources)