Allen Stuart Drury was born 2 September 1918 in Houston, Harris County, Texas, United States to Alden Monteith Drury (1895-1975) and Flora Allen (1894-1973) and died 2 September 1998 Tiburon, Marin County, California, United States of unspecified causes.
Biography
Allen Stuart Drury was an American novelist. He wrote the 1959 novel Advise and Consent, for which he won the Pulitzer Prize for Fiction in 1960.
Drury was born on September 2, 1918 in Houston, Texas, to Alden Monteith Drury (1895-1975), a real estate broker and insurance agent, and Flora Allen (1894-1973), a legislative representative for the California Parent-Teacher Association. Drury was a direct descendant of Hugh Drury (1616-1689) and Lydia Rice (1628-1675), daughter of Edmund Rice (1594-1663), all of whom were early immigrants to Massachusetts Bay Colony.
Drury lived in Tiburon, California from 1964 until his 1998 death by cardiac arrest. Drury had completed his 20th novel, Public Men, just two weeks before his death. He died on September 2, 1998 at St. Mary's Medical Center in San Francisco, California on his eightieth birthday. Drury was never married.
Senate Journal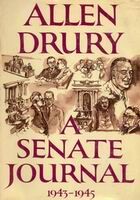 From 1943-45, Drury worked as the United States Senate correspondent for United Press which, as he wrote, gave him the opportunity "to be of some slight assistance in making my fellow countrymen better acquainted with their Congress and particularly their Senate."
He worked as a reporter, but also kept a journal in which he recorded the events of Congress as well as his impressions and views of individual senators and the Senate itself. Drury's journal followed the career of Harry S. Truman from junior senator to President of the United States, and also covered "President Franklin D. Roosevelt and his contentious relations with the Senate." The journal was published in 1963 as A Senate Journal 1943-45 after Drury had experienced great success with his 1959 novel Advise and Consent.
Siblings
Residences
Footnotes (including sources)