Biography
Almera Woodard Johnson Smith Barton was born 12 October 1812 in Westford, Chittenden County, Vermont to Ezekiel Johnson (1773-1848) and Julia Hills (1783-1853) and died 4 March 1896 Parowan, Iron County, Utah of unspecified causes. She married Joseph Smith (1805-1844) August 1843 in Nauvoo, Hancock County, Illinois.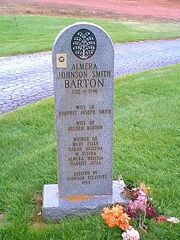 A daughter of Ezekiel and Julia Hills Johnson and a plural wife of the Mormon Prophet Joseph Smith (1805-1844). After Joseph Smith's death, on Nov. 16, 1845 she married Reuben Barton with her brother Joel Hills Johnson officiating. Together they had five daughters. Their third daughter, Lois, (the only one who lived to adulthood) was mentally impaired. Feeling responsible for her child's condition, "Almera wondered if it was punishment because she remarried."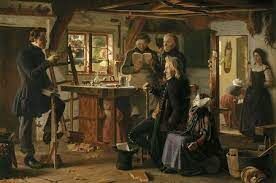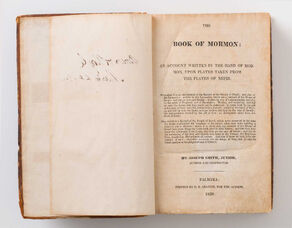 The 1830's saw a great Protestant religious revival sweep across the United States that was called the "Second Great Awakening" and was characterized by much emotional preaching, spiritual and social reform movements and a surge in membership growth for a great many Christian denominations.
This period also saw the rise of a new Church of Christ that was organized in early 1830 by its young prophet-leader, Joseph Smith (1805-1844), and after 1838 was formally named The Church of Jesus Christ of Latter-day Saints. This church group was frequently called the "Mormon Church" or "Latter-day Saints" (LDS) for its belief in a new set of holy scriptures called "The Book of Mormon". For better or worse, this new religion generated a lot of attention in this region.
Missionaries of this church taught that it was not a reform movement or protest movement but a "restoration" of the original church with completeness of the full of doctrine of the gospel of Jesus Christ including the ministering of angels, the restored priesthood, lost scripture, revelations, prophecy, living apostles, the gifts of the spirit and much more. This message had profound impact on many who subsequently left all to follow the Prophet and the Church. In many cases their faith was so strong as to push these early converts to endure many difficult hardships and sacrifices and to eventually journey over a thousand miles westward to settle in the Great Salt Lake Valley. (See also New Religion (LDS 1830).)[1][2]

In 1861 Almera and Reuben, who had become disaffected with the Church, separated and Almera traveled to Utah and settled in Parowan, Utah where for three more decades she would care for Lois.

,
Siblings
Research Notes
Within their journals her brothers Joel and Benjamin refer to her as Almera "Woodard" not "Woodward." Joel named one of his own daughters Almera Woodard.
References
Residences
Footnotes (including sources)