Alvin B Alden was born 1 March 1818 in Stafford, Tolland County, Connecticut, United States to Samuel Alden (1776-1855) and Kezziah Blodgett (1784-) and died 13 August 1882 Portage, Columbia County, Wisconsin, United States of unspecified causes. He married Sarah Pinney Converse (1823-1877) 1 November 1841 in Stafford, Tolland County, Connecticut, United States.
Biography
Alvin Blodgett Alden was an American businessman and politician. He is a direct descendant of Mayflower pilgrims John Alden (c1599-1687) and Priscilla Mullins (1602-1680).
Born in Stafford, Connecticut, Alden moved to Randolph, Wisconsin Territory in 1844 and then moved to Portage, Wisconsin in 1851. He worked for the Wisconsin Secretary of State as an insurance clerk and a loan agent for the North Western Life Insurance Company. He served as mayor of Portage, Wisconsin. In 1858, Alden served in the Wisconsin State Assembly and was a Democrat, Alden died in Eau Claire, Wisconsin.
Hon. Alvin B. Alden, at Eau Claire, August 13th, in his sixty-fifth year. Born at Stafford, Conn., March 1st, 1818, he came to Wisconsin when comparatively a young man and located in 1844 at Randolph.
In 1851, he moved to Portage, Wisconsin, where he held many offices of trust, at one time clerk of the board of supervisors, then mayor of the city, and, in 1858, a prominent member of the legislature. He served for a few months as insurance clerk under Secretary of State Doyle, and many years as loan agent of the North Western Life Insurance Company.
thirty-third degree Mason,
grand master of the grand lodge of the State,
grand commander of the Knights Templar,
grand high priest of the grand chapter of Wisconsin, serving in all these positions with great credit to himself, and honor to the fraternity.
He was at one time an unsuccessful candidate for secretary of state. He possessed a nice sense of honor, and was deservedly held in high estimation.
[Source: Proceedings of the State Historical Society of Wisconsin Vol. 10 (1909) Transcribed by: Heather A. Turner]
Marriage & Family
Children
Offspring of Alvin B Alden and unknown parent
Name
Birth
Death
Joined with

Charles Alden (1846-1846)




Emma Pinney Alden (1848-1850)




Alvin Phelps Alden (1851-1853)




Alvin Henry Alden (1853-1878)




John Converse Alden (1858-1895)
Siblings
Vital Records
Silver Lake Gravestone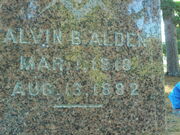 References
Footnotes (including sources)