Amelia Caroline Chapman Kempton was born 20 March 1835 in Hubbardsville, Madison County, New York, United States to Welcome Chapman (1805-1893) and Susan Amelia Risley (1807-1888) and died 13 March 1913 Clear Creek, Box Elder County, Utah, United States of unspecified causes. She married Jerome Bonaparte Kempton (1820-1899) 28 October 1851 in Salt Lake City, Salt Lake County, Utah, United States.
Vital Stats
Biography
Both Rosetta Anise Chapman (1834-1914) and her sister Amelia Caroline Chapman (1835-1913) were married to Jerome Kempton (Late 19th Century - LDS Polygamous Family)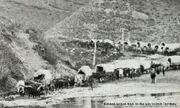 After leading his first historic 1847 Vanguard Company to blaze the trail to the Salt Lake Valley, Brigham Young (1801-1877) and many of the others returned back to Winter Quarters to collect their families and the rest of the church.
This family was numbered with the 1229 pioneers in 397 wagons make the 1,031 mile trek in 86 days (May 26 to Sept 24) and would be amongst the first of hundred plus wagon trains that would make the same journey over the next 24 years.
Children of Jerome and Amelia Kempton
Mary Amelia Kempton (1852-1869)
Hyrum Kempton (1854-1868)
Florence Kempton (1854-1854)

Lorin Bonaparte Kempton (1855-1939)

Dell Roy Kempton (1858-1941)

Erastus Kempton (1860-)

Leafy Ann Kempton (1864-1940)

- m. Newton Brigham Neal

Charles Levi Kempton (1866-1918)

- twin, m. Jane Louise Badger

Charlotte Cordelia Kempton (1866-1948)

- twin, m. William Arthur Bull

Rufus Fabush Kempton (1868-1943)

- m. Olive Viola Campbell

Luther Welcome Kempton (1869-1943)

Lucinda Isabell Kempton (1871-1947)

- m. Charles Forest Lockwood
Offspring of Jerome Bonaparte Kempton and Amelia Caroline Chapman (1835-1913)
Name
Birth
Death
Joined with

Mary Amelia Kempton (1852-1869)




Hyrum Kempton (1854-1868)




Florence Kempton (1854-1854)




Lorin Bonaparte Kempton (1855-1939)




Dell Roy Kempton (1858-1941)




Erastus Kempton (1860-)




Leafy Ann Kempton (1864-1940)




Charles Levi Kempton (1866-1918)




Charlotte Cordelia Kempton (1866-1948)




Rufus Fabush Kempton (1868-1943)




Luther Welcome Kempton (1869-1943)




Lucinda Isabell Kempton (1871-1947)
Siblings
#g1: Offspring of Welcome Chapman (1805-1893) and Susan Amelia Risley (1807-1888)
Name
Birth
Death
Joined with
Almina Chapman (1833-1833)
28 March 1833, Hubbardsville, Madison County, New York, United States
April 1833, Hubbardsville, Madison County, New York, United States
Chestina Chapman (1833-1833)
28 March 1833, Hubbardsville, Madison County, New York, United States
April 1833, Hubbardsville, Madison County, New York, United States
Rosetta Anise Chapman (1834-1914)
4 September 1834, Hubbardsville, Madison County, New York, United States
3 November 1914, Malad, Oneida County, Idaho, United States
Jerome Bonaparte Kempton (1820-1899)
Amelia Caroline Chapman (1835-1913)
20 March 1835, Hubbardsville, Madison County, New York, United States
13 March 1913,

Clear Creek

, Box Elder County, Utah, United States
Jerome Bonaparte Kempton (1820-1899)
Joseph Smith Chapman (1838-1917)
17 November 1838, Far West, Caldwell County, Missouri, United States
13 July 1917,

Heber City

, Wasatch County, Utah, United States
Mary Jane Matthews (1836-1899)
Hyrum Smith Chapman (1841-1928)
3 October 1841, Nauvoo, Hancock County, Illinois, United States
22 January 1928, Bluewater Village, Cibola County, New Mexico, United States
Rhoda Ann Fullmer (1847-1917)
Benjamin Chapman (1843-1843)
12 August 1843, Nauvoo, Hancock County, Illinois, United States
27 September 1843, Nauvoo, Hancock County, Illinois, United States
Levi Chapman (1845-aft1903)
20 April 1845, Nauvoo, Hancock County, Illinois, United States
1903, California, United States
Cadelia Case (1845-1900)
Fidelia Chapman (1846-1909)
10 November 1846, Winter Quarters, Douglas County, Nebraska, United States
16 July 1909, Malad City, Oneida County, Idaho, United States
Richard Babbitt (1842-1917)
Welcome Chapman (1849-1900)
2 October 1849, Salt Lake City, Salt Lake County, Utah, United States
20 February 1900, St. Johns, Apache County, Arizona, United States
Mary Adeline Potter (1854-1874)

+

Harriet Zelnora Marsden (1854-1884)

+

Harriet Ann Davis (1868-1945)
#g2: Offspring of Welcome Chapman (1805-1893) and Ann Mackey (1839-1926)
Name
Birth
Death
Joined with
Phoebe Ann Chapman (1856-1932)
1 December 1856, Manti, Sanpete County, Utah, United States
17 December 1932, Fountain Green, Sanpete County, Utah, United States
James Campbell Livingston (1858-1924)
Fannie Chapman (1858-1861)
20 October 1858, Manti, Sanpete County, Utah, United States
15 October 1861, Manti, Sanpete County, Utah, United States
Samuel Welcome Chapman (1860-1940)
3 December 1860, Manti, Sanpete County, Utah, United States
23 June 1940, Manti, Sanpete County, Utah, United States
Lillies Staines Lyon (1861-1942)
Anthony Chapman (1862-1947)
2 December 1862, Manti, Sanpete County, Utah, United States
25 May 1947, Ogden, Weber County, Utah, United States
Kate Braithwaite (1866-1947)
Lois Chapman (1864-1939)
27 November 1864, Manti, Sanpete County, Utah, United States
28 April 1939, Salt Lake City, Salt Lake County, Utah, United States
Walter Williams (1863-1904)
Calantha Chapman (1866-1866)
24 October 1866, Manti, Sanpete County, Utah, United States
31 October 1866, Manti, Sanpete County, Utah, United States
John Chapman (1868-1869)
19 April 1868, Salt Lake City, Salt Lake County, Utah, United States
25 August 1869, Salt Lake City, Salt Lake County, Utah, United States
Harriet Amelia Chapman (1869-1871)
8 November 1869, Salt Lake City, Salt Lake County, Utah, United States
18 October 1871, Salt Lake City, Salt Lake County, Utah, United States
Henry Welcome Chapman (1874-1876)
7 July 1874, Manti, Sanpete County, Utah, United States
24 May 1876, Salt Lake City, Salt Lake County, Utah, United States
Lillie Sarah Chapman (1881-1882)
22 December 1881, Salt Lake City, Salt Lake County, Utah, United States
23 October 1882, Salt Lake City, Salt Lake County, Utah, United States
#g3: Offspring of Welcome Chapman (1805-1893) and Catherine Ann Stayner (1839-1910)
Name
Birth
Death
Joined with
Jesse Welcome Chapman (1857-1940)
22 February 1857, Manti, Sanpete County, Utah, United States
28 March 1940,

Nooksack

, Whatcom County, Washington, United States
Elizabeth Ann McLane (1859-1893)

+

Mary Elizabeth Noakes (1877-1902)

+

Mary May Belle Low (1874-1943)
Eliza Ella Chapman (1859-1930)
1859, Manti, Sanpete County, Utah, United States
18 July 1930, Salt Lake City, Salt Lake County, Utah, United States
Elizur Chapman (1859-1936)
1 February 1859, Manti, Sanpete County, Utah, United States
22 August 1936, Burley, Cassia County, Idaho, United States
Amelia Elizabeth Snyder (1867-1939)
Catherine Lorella Chapman (1863-1867)
14 May 1861, Manti, Sanpete County, Utah, United States
6 February 1867, Salt Lake City, Salt Lake County, Utah, United States
Jeremiah Chapman (1865-1866)
6 September 1865, Manti, Sanpete County, Utah, United States
8 November 1866, Utah, United States
William Chapman (1867-1869)
14 October 1867, Salt Lake City, Salt Lake County, Utah, United States
26 September 1869, Salt Lake City, Salt Lake County, Utah, United States
Ellen Chapman (1874-1949)
2 March 1874, Salt Lake City, Salt Lake County, Utah, United States
18 July 1930, Salt Lake City, Salt Lake County, Utah, United States
James Edward Collard (1872-1930)
Allie Andrew Chapman (1876-1901)
21 June 1876, Salt Lake City, Salt Lake County, Utah, United States
30 June 1901, Fountain Green, Sanpete County, Utah, United States
Clara Catherine Jensen (1883-1960)
Benjamin Welcome Chapman (1881-1925)
1 March 1881, Salt Lake City, Salt Lake County, Utah, United States
11 March 1925, Salt Lake City, Salt Lake County, Utah, United States
Edna Pearl Taylor (1886-1966)
References
Amelia Chapman

- disambiguation
Vital Records
1910 US Census
Taken Clear Creek, Box Elder Co,
Luther W Kempton (M-39) - Son
Amelia Kempton (F-73) - Mother/Widow
Residences
Footnotes (including sources)