Biography
Ann Chestnut Adair was born 11 April 1844 in Missouri, United States and died 27 March 1863 Washington, Washington County, Utah, United States of unspecified causes. She married George Washington Adair (1837-1909) 8 November 1858 in Washington, Washington County, Utah, United States.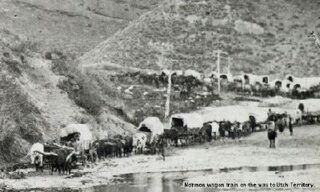 Benjamin Gardner led a pioneer company of 185 individuals that consisted primarily of members of The Church of Jesus Christ of Latter-day Saints who were seeking refuge from religion persecution. Departed from Kanesville, Iowa on 2-10 June 1852 and reached the Salt Lake Valley on 24-27 Sept 1852. Samuel Jefferson Adair (1806-1889) (who was recently widowed) and his family was part of this group, including 3-4 children adopted in Iowa.

Before they left Iowa, Samuel took David L. Sechrist, an orphaned child, to raise. While on the plains he adopted two more children that apparently had lost their parents. These children were Alfred and Ann Catherine Chestnut (Kerry Petersen's note: actually he found three including Sarah and raised Alfred and Ann). When they arrived in Salt Lake City, Alfred recognized his real father's team of horses, but the supposed owner told Samuel to shut the boy up or he would shut him up himself. Some real skullduggery had to have taken place in Iowa. Samuel Adair raised these children as his own. The Adairs and Mangums, after arriving in Utah, first settled in the Payson-Nephi area.
Six years later Ann married her step-brother, George, soon after participating in the settlement of Washington, Utah, where both he and her adopted father, Samuel are listed on the Adair Spring Monument of 1857.
Children
Offspring of George Adair, Sr. and Ann Catherine Chestnut (1844-1863)
Name
Birth
Death
Joined with

George Washington Adair (1861-1934)




Jemima Ann Adair (1863-1919)
Siblings
Vital Records
1860 US Census
Location: Household #1290: Washington, Utah,
Geo W Adair - 23-M-Farmer
Ann - 16-F
Sarah Chestnut - 14-F
Residences
Footnotes (including sources)