Onderwerp
Johanna Jan (Anna) Coenen (1578-) was born 1578 in The Netherlands to Jan Coenen (1540-1597) and Anna van den Berg . She married Willem van Henxtum van Delft (1576-1625) in Netherlands.
Biography
Birth
Johanna Jan (Anna) Coenen was born in 1578 in the Habsburgian Netherlands a State of the Holy Roman Empire. Anna was a daughter of Jan Jan Christiaan Coenen (1540 - 1603) from Akker in Wouw and Margaretha Jansdr. Monckaert (1556 - 1641) from Ekeren.
Ancestors
The ancestors of Anna.


Historical context
The region's name is first recorded as the Carolingian shire pagus Bracbatensis, located between the rivers Scheldt and Dijle, from braec "marshy" and bant "region". Upon the 843 Treaty of Verdun it was part of Lotharingia within short-lived Middle Francia, and was ceded to East Francia according to the 880 Treaty of Ribemont. In 1430 the Duchies of Lower Lotharingia, Brabant and Limburg were inherited by Philip the Good of Burgundy and became part of the Burgundian Netherlands. In 1477 the Duchy of Brabant became part of the House of Habsburg as part of the dowry of Mary of Burgundy. At that time the Duchy extended from Luttre, south of Nivelles to 's Hertogenbosch, with Leuven as the capital city.
Marriage
Anna married in 1576 Willem Peter Willem van Henxtum alias van Delft (1576 - 1625) from 's-Hertogenbosch.
Children
Descendants
The descendants of Anna.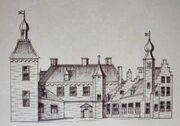 Through the family branch Aa family Coenen inherited the castle Zegenwerp at St. Michielsgestel in the Duchy of Brabant.
Death
Anna passed away in The Habsburgian Netherlands (HRE)
Timeline
1578 born
1540 married Willem
1596 son Geerling is born
passed away
Sources
External links
Footnotes (including sources)