Anna Warren Little was born 1612 in Sussex Square, London, Middlesex, England to Richard Warren (c1580-1628) and Elizabeth Walker (1583-1673) and died 19 February 1675 Marshfield, Plymouth County, Massachusetts of unspecified causes. She married Thomas Little (1608-1672) 19 April 1633 in Plymouth Colony, Plymouth County, Massachusetts.
Biography
[
]
In 1623, Richard's wife Elizabeth and their five daughters: Mary, Anna, Sarah, Elizabeth, and Abigail, sailed from England to Plymouth, Massachusetts, on the ship "Anne". They came to join Richard Warren (c1580-1628) who came over on the Mayflower. Richard & Elizabeth then had two sons: Nathaniel and Joseph, in Plymouth Colony before Richard died in 1628.
All seven of Richard Warren's children survived to adulthood, married, and had large families. He is the Mayflower passenger with the most descendants, numbering over 14 million. Included in that number are President Ulysses S. Grant, President Franklin Delano Roosevelt*, astronaut Alan Shephard, actor Richard Gere, authors Henry David Thoreau and Laura Ingalls Wilder, folk artist Grandma Moses, and United States Army General Leonard Wood.
Anne married 19 April 1633, in Plymouth, MA, to Thomas Little (1608-1672). He died in March 1671/72. Anne was likely buried beside her husband in Old Winslow Burying Ground in Marshfield, MA.
Children
Siblings
[
]
Vital Records
[
]
Green Harbor Monument
[
]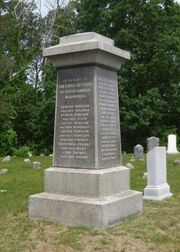 This person is listed in memoriam on the Green Harbor Monument, located in Marshfield, Massachusetts and dedicated in honor of the early colonists from Plymouth Colony who settled this area in the early 1600s.
References
[
]
Residences