Anne Hopkins Fuller was born circa 1581 in England and died 1621 Plymouth Colony, Plymouth, Plymouth County, Massachusetts of unspecified causes. She married Edward Fuller (1575-1621) 1602 in Redenhall with Harleston, Norfolk, England, United Kingdom.
Research Notes
Little is known about Ann Fuller, other than she was the wife of Edward Fuller and she had two sons, Matthew & Samuel Fuller. She died sometime between January 11th and April 1621.
Burial = Coles Hill Burial Ground - Plymouth MA.
His Brother, Samuel Fuller (1580-1633) took his apprentice and servant William Butten with him and sailed to North America. He left his wife behind in Plymouth (England) to care for his young child, which later died in Plymouth. Samuel's brother 'Edward Fuller joined him, along with Edward's wife Ann. The settlers founded a colony in North America and named it Plymouth Colony, after the city they had set out from.
Edward Fuller crossed the Atlantic on the Mayflower with his wife and his 12 year old son, Samuel Fuller (1608-1683). Also accompanying the family was Edward's brother Dr. Samuel Fuller. Edward Fuller was the twenty-first signer of the Mayflower Compact. Both Edward Fuller and his wife died during the first winter in Plymouth Colony. Samuel survived and lived with his uncle after the death of his parents.
Children
Siblings
Vital Records
Cole's Hill Memorial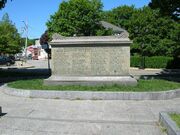 A large monument was erected in 1921 on Cole's Hill in Plymouth, Massachusetts to honor the many pilgrims who came to Plymouth Colony in the Mayflower but died during the first terrible winter and were buried here. This person is one of those person's listed thereon.
Pilgrim Monument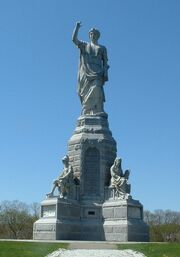 National Monument to the Forefathers, commemorates the Mayflower Pilgrims, (including this person) who came to Plymouth Colony in 1620 on the Mayflower. Dedicated on August 1, 1889, it is thought to be the world's largest solid granite monument. Located on an 11 acre hilltop site on Allerton Street in Plymouth, Massachusetts.
References
Residences
Footnotes (including sources)