Arunah Shepardson Abell was born 10 August 1806 in East Providence, Providence County, Rhode Island, United States to Caleb Abell (1763-1842) and Elona Shepardson (1767-1847) and died 19 April 1888 Baltimore, Baltimore County, Maryland, United States of unspecified causes. He married Mary Fox Campbell (1818-1859) 1838 in Baltimore, Baltimore County, Maryland, United States. Charlemagne (747-814)/s, Henry II of England (1133-1189)/s, Hugh Capet (c940-996)/s, William I of England (1027-1087)/s.
Biography
Arunah Shepherdson Abell was an American publisher and philanthropist from New England who was active in Pennsylvania and Maryland. Born in East Providence, Rhode Island, Abell learned the newspaper business as an apprentice at the Providence Patriot. After stints with newspapers in Boston and New York City, he co-founded the Public Ledger in Philadelphia and later independently founded the The Sun of Baltimore, Maryland; both were penny papers to appeal to the working class. Abell and his descendants continued ownership of The Sun as a family business until 1910.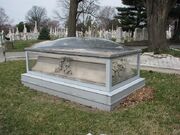 Abell is noted as an innovative publisher in the newspaper business, making use of new systems and technology: pony express delivery of news from New Orleans, using the telegraph to transmit news from the first Mexican-American War and a President's speech to the Congress in Washington, D.C., and using the new rotary/cylinder printing press invented by Richard March Hoe.
Children
Offspring of Arunah Shepardson Abell and

Mary Fox Campbell (1818-1859)

Name
Birth
Death
Joined with

Rose Campbell Abell (1834-)




Edwin Franklin Abell (1840-1904)




George William Abell (1842-1894)




Robert Arunah Abell (1844-)




Henry Thompson Abell (1846-)




Charles Shepardson Abell (1848-1875)




Walter Robert Abell (1849-1891)




Charles Abell (1851-1891)




Mary Abell (1852-1922)




Marie Abell (1853-)




Agnes Frances Abell (1855-1905)




Helen M Abell (1856-1940)
Siblings
Ancestry Links
Footnotes (including sources)