Jurassic World: Dominion Dominates Fandom Wikis - The Loop
Play Sound
Augusta Adams Cobb Young was born 7 December 1802 in Lynn, Essex County, Massachusetts to John Adams (1774-1803) and Mary Ives (1775-1812) and died 3 February 1886 Salt Lake City, Salt Lake County, Utah of unspecified causes. She married Henry Cobb (1798-1872) 25 December 1822 in Charlestown, Suffolk County, Massachusetts. She married Brigham Young (1801-1877) 2 November 1843 in Nauvoo, Hancock County, Illinois.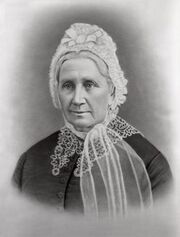 Biography
Augusta Adams Cobb Young left behind her husband, Henry Cobb (1798-1872), a wealthy Quaker, and seven of their children, prompting Boston newspaper reporters to question who the father was of her infant, whom she had named Brigham Young Cobb.
In 1838, Brigham Young (1801-1877) was on a mission in the Boston area and met Augusta. They fell in love and she abandoned all but the two youngest children, and moved to Nauvoo, Illinois. During the trips, her baby boy, named Brigham Young Cobb (1838-1843), died. Once there, she married Brigham Young as his 2nd plural wife (out of some 45-55 wives total), without first divorcing husband Henry. Henry sued for divorce in 1846 and in 1847, the Massachusetts State Supreme Court granted them a divorce on the basis of her adultery with Brigham Young.
Once in Nauvoo, Augusta promptly became the third wife of Brigham Young.
Augusta Adams Cobb Young died in Salt Lake City and was initially buried next to Brigham Young and his civil wife, Mary Ann Angell Young. However, daughter Charlotte (now a dissident from Mormonism herself)) then had Augusta exhumed and reinterred in the Kirby family plot in the Salt Lake City Cemetery on February 3, 1907. A monument was placed there in Augusta's honor, but only recognizing her married name of Cobb to avoid any hint of her marriage to Brigham Young.
Marriage & Children
1st Marriage: Henry Cobb
Henry Ives Cobb (1825-1848)
Mary Elizabeth Cobb (1828-1895)
Albert Adams Cobb (1830-1900)
Lucy Almira Cobb (1832-1855)
James Thornton Cobb (1833-1910) - James Cobb, joined her and The Church of Jesus Christ of Latter-day Saints in the West. md Camilla Clara Mieth, 1 child. Died at age 70 in SLC. He married but was divorced from Mary Van Cott, who then became wife No. 51 of Brigham Young. That made James both the son and ex-husband to two of the Mrs. Youngs.

Charlotte Ives Cobb (1836-1908)

- married William S. Godbe, a Mormon polygamist who was excommunicated after he became a dissident and critic of Brigham Young. Godbe helped found The Salt Lake Tribune in the 1870s as an alternative to the Mormon-owned Deseret News. After Godbe's excommunication, Charlotte then married John Adams Kirby, who was twenty years her junior.
Baby Cobb (1838-1838)
Brigham Young Cobb (1838-1843) - curiously, a child named for her second husband, he died young.
2nd Marriage: Brigham Young
Augusta Adams Cobb Young left her first husband to follow after the Mormon Church. There are no known children of this marriage.
Children
Siblings
References
Residences
Footnotes (including sources)