We're Getting Mutants in the MCU - The Loop
Play Sound
Bârlad (Romanian pronunciation: [bɨrˈlad]) is a city in Vaslui County, Romania. It lies on the banks of the Bârlad River, which waters the high plains of eastern Moldavia.
At Bârlad the railway from Iaşi diverges, one branch skirting the river Siret, the other skirting the Prut; both reunite at Galaţi. Along with a maze of narrow and winding streets, Bârlad features several notable modern buildings, including the hospital administered by the Saint Spiridion Foundation of Iaşi.
In the vicinity of the city there are traces of a Roman camp.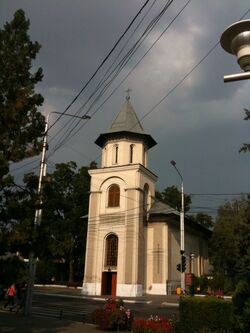 Demography
[
]
Demographic evolution of Bârlad
Main sights
[
]
"Vasile Pârvan" Museum
Earth fortress of 1476 built by

Stephen the Great

"V.I. Popa" Theatre
Planetarium
Zoo
"Saint George" church - build in 1636 by Vasile Lupu
"Sfinții Voievozi" church
"Saint Dumitru" church
"Saint Spiridon and Buna Vestire" church (1825)
"Vovidenia and Saint Paraschiva" church
Cuza House
Sturdza House
Tuduri House
Bulbuc House
Silvian House
Șuțu House
Red House
Gheorghe Gheorghiu House
"Marcel Guguianu" pavilion for exhibitions;
Building of the former "Deșteptarea" bank
Statue of

Gheorghe Roșca Codreanu

.
Sergeant Buhus Vlad memorial house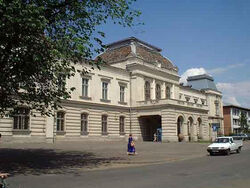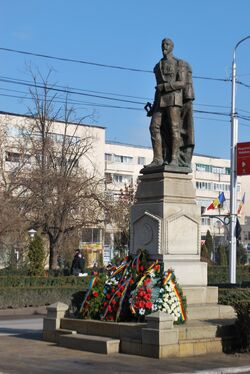 Natives
[
]
Constantin Aur

Andreea Răducan

Anton Holban

Manolache Costache Epureanu

Cezar Ivănescu

Ernest Juvara

Gheorghe Gheorghiu-Dej

Gheorghe Palade

Ionel Teodoreanu

Marcel Guguianu

Nicolae Cocea

Nicolae Tonitza

Vasile Sturdza

Victor Ion Popa

Titi Aur

Stroe S. Belloescu

Max Goldstein

Elena Farago

Alexandru Philippide

Virgil Duda

George Tutoveanu

Florin Ciorăscu

Ion Dimitriu-Bârlad

Constantin Hamangiu

Constantin T. Nicolau

Martin Bercovici

Constantin Manolache

Barbu Zaharescu

Ion Chiricuță

Victor Cristea

Valeriu Lazarov

Cicerone Poghirc

George D. Pallade

Nicolae Cocea

Basta Dragos Mihai
Sport
[
]
Rulmentul Bârlad is a rugby team from the city, currently playing in the first rugby league in Romania. One of the pioneers of rugby in Romania, the first team was created in 1956 under the name of CONSTRUCTORUL, meaning the "builder" in Romanian. C.S. RULMENŢI S.A. Bârlad was formed later on in 1962, competing in the first tier of the Romanian rugby division ever since. The team colours are white and blue. Notable performances are the winning of the 1986 and 1987 F.R.R cup (Romanian cup).
Fepa 74 Bârlad was the city's football team, changing its name to FC Bârlad. Its best performance was promotion in the second tier of Romanian football championship in mid-1980s.
External links
[
]