Bartholomew Allerton was born 1612 in Reusel-de Mierden, Noord-Brabant, Netherlands to Isaac Allerton (1586-1658) and Mary Norris (1588-1621) and died 15 February 1658 Bramfield, Suffolk, England, United Kingdom of unspecified causes. He married Margaret Fairfax (1612-) in England, United Kingdom. He married Sarah Fairfax (1616-) in England.
Vital Statistics
Mayflower Pilgrim (at age 8) that later returned to England
Biography
Per Bradford's journal of Plymouth Colony, Bartholomew returned to England. There is a Bartholomew Allerton mention in English Ancestry by Banks (p 29-30) that references some legal matters in Norfolk, England. But proof if this is the same person is inconclusive.


,
Siblings
Vital Records
Bradford's Passenger List
From Gov Bradford's listing of 1620 passengers of the Mayflower:
Mr. Isaack Allerton, and Mary, his wife; with 3 children, Barthlomew, Remember and Mary; and a servant boy, John Hooke.
Mr. Allerton his wife dyed with the first, and his servant, John Hooke. His son Bartle is maried in England, but I know not how many children he hath. His doughter Remember is maried at Salem, and hath 3 or 4 children living. And his doughter Mary is maried here, and hath 4 children. Him selfe maried againe with the doughter of Mr. Brewster, and hath one sone living by her, but she is long since dead. And he maried againe, and hath left this place long agoe. So I account his increase to be 8 besides his sons in England.
Pilgrim Monument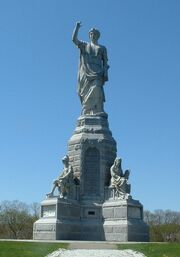 National Monument to the Forefathers, commemorates the Mayflower Pilgrims, (including this person) who came to Plymouth Colony in 1620 on the Mayflower. Dedicated on August 1, 1889, it is thought to be the world's largest solid granite monument. Located on an 11 acre hilltop site on Allerton Street in Plymouth, Massachusetts.
References
Footnotes (including sources)