Bertha Felicitas Sophie Kinsky von Wchinitz und Tettau was born 9 June 1843 in Prague, Czech Republic to Franz-Joseph Kinsky von Wchinitz und Tettau (1768-1843) and Sophie Wilhelmine von Körner (1815-1884) and died 21 June 1914 Vienna, Austria of unspecified causes.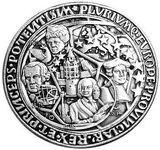 Bertha Felicitas Sophie Freifrau von Suttner (Baroness Bertha von Suttner, Gräfin (Countess) Kinsky von Wchinitz und Tettau; 9 June 1843 – 21 June 1914) was an Austrian novelist, radical (organizational) pacifist, and the first woman to be awarded the Nobel Peace Prize and the second to be awarded the Nobel Prize.[1]
Early life
Suttner was born in Prague, Bohemia, the daughter of an impoverished[2] Austrian Field Marshal, Franz-Josef Graf Kinsky von Wchinitz und Tettau, and wife Sophie von Körner, and governess to the wealthy Suttner family from 1873. She had an older brother, Arthur Franz Graf Kinsky von Wchinitz und Tettau.
She became engaged to engineer and novelist Arthur Gundaccar Freiherr von Suttner (who died on 10 December 1902), but his family opposed the match, and she answered an advertisement from Alfred Nobel in 1876 to become his secretary-housekeeper at his Paris residence. She only remained a week before returning to Vienna and secretly marrying Arthur on 12 June 1876.
Impact
Suttner became a leading figure in the peace movement with the publication of her novel, Die Waffen nieder! ("Lay Down Your Arms!") in 1889 and founded an Austrian pacifist organization in 1891. She gained international repute as editor of the international pacifist journal Die Waffen nieder!, named after her book, from 1892 to 1899. Her pacifism was influenced by the writings of Immanuel Kant, Henry Thomas Buckle, Herbert Spencer, Charles Darwin and Leo Tolstoy (Tolstoy praised Die Waffen nieder!). [3] Suttner was also a journalist, with one historian stating her work revealed her as "a most perceptive and adept political commentator".[3]
Influence on Alfred Nobel
Though her personal contact with Alfred Nobel had been brief, she corresponded with him until his death in 1896, and it is believed that she was a major influence in his decision to include a peace prize among those prizes provided in his will, which she won in 1905.
Commemoration on coins and stamps
Bertha von Suttner was selected as a main motif for a high value collectors' coin: the

2008 Europe Taler

. The reverse shows important people in the history of Europe, including Bertha von Suttner. Also depicted in the coin are Martin Luther (symbolising the transition from the Middle Ages to the modern period);

Antonio Vivaldi

(exemplifying the importance of European cultural life); and

James Watt

(representing the industrialization of Europe, inventor of the first

steam engine

in the 18th century).
She is depicted on the Austrian 2 euro coin, and was pictured on the old Austrian 1000 schilling bank note.
She was commemorated on a 2005 German postage stamp.
On film
Die Waffen nieder, by Holger Madsen and Carl Theodor Dreyer. Released by Nordisk Films Kompagni in 1914.[4][5]
Works in English translation
Memoirs of Bertha von Suttner; The Records of an Eventful Life, Pub. for the International School of Peace, Ginn and company, 1910.
When Thoughts Will Soar; A Romance of the Immediate Future, by Baroness Bertha von Suttner ... tr. by Nathan Haskell Dole. Boston, New York, Houghton Mifflin company, 1914.
Lay Down Your Arms; The Autobiography of Martha von Tilling, by Bertha von Suttner. Authorised translation by T. Holmes, rev. by the authoress. 2d ed. New York, Longmans, Green and Co., 1906.
Notes
See also
Pacifism

List of peace activists

List of Austrians

List of Austrian writers

List of female Nobel laureates
External links
1901

Henry Dunant

 /

Frédéric Passy

1902

Élie Ducommun

 /

Charles Gobat

1903

Randal Cremer

1904

Institut de Droit International

1905

Bertha von Suttner

1906

Theodore Roosevelt

1907

Ernesto Moneta

 /

Louis Renault

1908

Klas Arnoldson

 /

Fredrik Bajer

1909

A. M. F. Beernaert

 /

Paul Estournelles de Constant

1910

International Peace Bureau

1911

Tobias Asser

 /

Alfred Fried

1912

Elihu Root

1913

Henri La Fontaine

1914

1915

1916

1917

International Committee of the Red Cross

1918

1919

Woodrow Wilson

1920

Léon Bourgeois

1921

Hjalmar Branting

 /

Christian Lange

1922

Fridtjof Nansen

1923

1924

1925

Austen Chamberlain

 /

Charles Dawes
Residences
References
Footnotes (including sources)