Col. Briggs Alden was born 8 June 1723 in Duxbury, Plymouth County, Massachusetts to John Alden (1682-1739) and Hannah Briggs (1684-1739) and died 4 October 1796 Duxbury, Plymouth County, Massachusetts, United States of unspecified causes. He married Mercy Wadsworth (1724-1812) 19 November 1741 in Duxbury, Plymouth County, Massachusetts.
Biography
Son of John Alden (1682-1739) and Hannah Briggs (1684-1739) and Mayflower descendant of John Alden (c1599-1687) and Priscilla Mullins (1602-1680). Col. John Alden dies in 1739, his wife Hannah Briggs Alden dies soon after.
1653 Alden House in Duxbury
By 1629, Mayflower pilgrim John Alden, Sr. and his family had moved to Duxbury, Massachusetts where they built their first family home, only 38 feet x 10 feet big, in which he would raise a family of 10 children. He would build a much larger home in 1653, which much of the business of Plymouth Colony was transacted as he served as court clerk. Today, 1653 Alden House, which stands on Alden Street, is operated as a Alden family history museum by Alden Kindred Society.
His oldest brother Samuel, living in England, becomes the owner of the Alden family home (1739), but Briggs Alden, continues to live in the house with his family. Samuel Alden dies in England in 1757 (age 44), leaving the house to his brother, Briggs. He and his family are primary residents here from 1739 to 1796.
Briggs and Mercy had at least 8 children, all raised int he Alden House.
Marriage and Family
Briggs marries Mercy Wadsworth 18 Nov 1741, daughter of Ichabod Wadsworth (1686-1745) and Margaret Marshall (1702-1773). They live in the house and raise a family of 8 children until his death in 1796. Children of Briggs and Mercy Wadsworth Alden are Hannah (1743-1790) John (1744-1766) Son (1746-1746) Deborah (1748-1793) Major Judah (1750-1845) Nathaniel (1752-1833) Edith (1754-1815) Abigail (1755-1800) Samuel (1757-1779) Amherst (1759-1804).
Children
Siblings
Vital Records
Duxbury Gravestone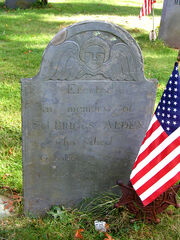 Gravestone Location: Mayflower Cemetery at Duxbury, Massachusetts.
References
Residences
Footnotes (including sources)