Campbell Town




Main road in centre of Campbell Town, opposite rest area
Population:
755 (2001)[1]
Established:
1821
Postcode:
7210
Location:

LGA

:

Northern Midlands Council

State District

:

Lyons

Federal Division:

Lyons

Campbell Town is a town in Tasmania, Australia, located on the Midland Highway. It was originally one of the four garrison towns linking Hobart and Launceston. Today, it acts as the only major rest area on the Midland Highway, with toilets, a park, a large car park and a range of food outlets. Campbell Town is also the retail centre for much of the southern part of the Municipality. Midlands area.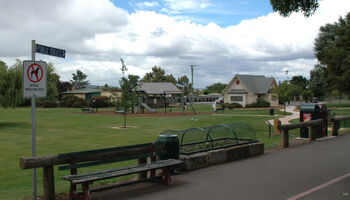 One of Campbell Town's famous attractions is the convict-built Red Bridge, the oldest bridge on the National Highway. It was named by Governor Macquarie after his wife, Elizabeth Campbell, as was the river passing through the town, the Elizabeth River.[3] The bridge and causeway, were built as a part of the original main road, it was to be a part of Bell's line of Road, but this road never got past Oatlands. Construction was commenced in 1836 and completed in 1838.[4] It consists of drystone abutments and timber top, although the top has been replaced, the stone abutments are original, making this a rare example of early Australian stone work.
References
[
]
Coordinates: 41°55′S 147°30′E / -41.917, 147.5