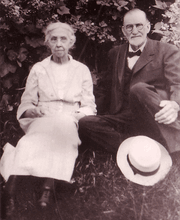 Catherine Burnett (1845-1926) was a housewife. (b. January 24, 1845; Jefferson, Schoharie County, New York, 12093, USA - d. January 18, 1926; Cobleskill, Schoharie County, New York, 12149, USA)
Birth
[
]
Marriage
[
]
On October 07, 1866 Catherine married Peter B. Van Deusen (1845-1926).
Children
[
]
Schoharie County, New York
[
]
In 1872 Peter and Catherine were farming 50 acres in Jefferson, Schoharie County, New York. In 1880 the family was still living in Jefferson and the family is incorrectly indexed in the Census as "Peter Van Densen". In 1900 Peter and Katherine were living in Cobleskill under the name "Peter Vandusen" and "Catherine Vandusen". Peter was working as a "market agent". At home was their daughter Matilda. In 1920 Peter and Katherine were still living in Cobleskill.
Death
[
]
She died on January 18, 1926 in Cobleskill.
Burial
[
]
She may be buried in the Cobleskill Cemetery but it hasn't been confirmed yet.