Biography
Clarissa Hancock Alger was born 3 September 1790 in Longmeadow, Hampden County, Massachusetts, United States to Thomas Hancock (1763-1844) and Amy Ward (1769-1847) and died 22 July 1870 Parowan, Iron County, Utah, United States of unspecified causes. She married Samuel Alger (1786-1874) 25 February 1808 in Uxbridge, Worcester County, Massachusetts.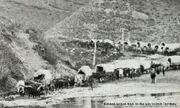 After leading his first historic 1847 Vanguard Company to blaze the trail to the Salt Lake Valley, Brigham Young (1801-1877) and many of the others returned back to Winter Quarters to collect their families and the rest of the church.
This family was numbered with the 1229 pioneers in 397 wagons make the 1,031 mile trek in 86 days (May 26 to Sept 24) and would be amongst the first of hundred plus wagon trains that would make the same journey over the next 24 years.
Children
Offspring of Samuel Alger and Clarrissa Hancock (1790-1870)
Name
Birth
Death
Joined with

Eli Ward Alger (1809-1890)




Samuel Alger (1811-1909)




Saphrony Alger (1813-1818)



Francis Ward Alger (1817-1889)
30 September 1817 Rehoboth, Bristol County, Massachusetts, United States
29 November 1889 Indianapolis, Marion County, Indiana, United States
Joseph Smith (1805-1844) Joseph Smith (1805-1844) Solomon Franklin Custer (1817-1885)


Amy Saphony Alger (1818-1897)



John Alger (1820-1897)
5 November 1820 Lebanon, Ashtabula County, Ohio, United States
4 February 1897 St. George, Washington County, Utah, United States
Sarah Ann Pulsipher (1824-1909)


Alvah W Alger (1822-)




Samuel H Alger (1826-1908)



Thomas Hancock Alger (1828-1862)
14 August 1828

Mayfield

, Cuyahoga County, Ohio, United States
6 February 1862

Chillicothe

, Livingston County, Missouri, United States
Sarah Ann Edwards (1832-1903)


Clarissa Alger (1830-1907)
Siblings
#g1: Offspring of Thomas Hancock (1763-1844) and Amy Ward (1769-1847)
Name
Birth
Death
Joined with

Elijah Hancock (1786-1818)

,
,

Eliza Hancock (1788-1878)

,
,

Thomas Hancock (1788-1848)

,
,
Clarrissa Hancock (1790-1870)
3 September 1790,

Longmeadow

, Hampden County, Massachusetts, United States
22 July 1870, Parowan, Iron County, Utah, United States
Samuel Alger (1786-1874)
Solomon Hancock (1793-1847)
14 August 1793, Springfield, Hampden County, Massachusetts, United States
2 December 1847, Council Bluffs, Pottawattamie County, Iowa, United States
Alta Adams (1795-1835)

+

Phoebe Adams (1811-1897)

Alvah Hancock (1796-1847)

,
,
Joseph Hancock (1800-1893)
18 March 1800, Springfield, Hampden County, Massachusetts, United States
5 July 1893, Payson, Utah County, Utah, United States

Betsey Johnson (1804-1831)

+

Experience Wheeler (1792-1852)
Levi Ward Hancock (1803-1882)
7 April 1803, Springfield, Hampden County, Massachusetts, United States
10 June 1882, Washington County, Utah, United States

Clarissa Reed (1814-1860)

+

Emily Melissa Richey (1830-1857)

+

Elizabeth Woodville Hovey (1835-1879)

+

Ann Tew (1835-1884)

+

Mary Morgan (1819-c1880)

Sarah Hancock (1806-1886)

,
,

Amy Hancock (1807-1809)

,
,
Residences
See Also
Clarrissa Hancock

Hancock Family

Hancock in Hampden County, Massachusetts

Hancock in Iron County, Utah
Footnotes (including sources)