The Sandman Will Keep You Awake - The Loop
Play Sound
Articles, images

Archeology

 •

Farms

 •

Landmarks

 •

Migrations and settlements

 •

Photo gallery

 •

Prehistory

 •

Timeline

People

Births

 •

Deaths

 •

Baptisms

 •

Marriages

 •

Divorces

 •

Burials

 •

Families

 •

Residents

Daily life

Before 1700

 •

1700-1749

 •

1750-1799

 •

1800-1819

 •

1820-1839

 •

1840-1859

 •

1860-1879

 •

1880-1899

 •

1900-1919

 •

1920-1939

 •

1940-1959

 •

1960-1979

 •

1980-1999

 •

2000-present

Research,
including queries

Currituck County, North Carolina links

 •

Birth records

 •

Businesses

 •

Cemeteries

 •

Census data

 •

Census records

 •

Church records

 •

Court records

 •

Death records

 •

Directories

 •

Landowner records

 •

Marriage records

 •

Maps

 •

Military records

 •

Obituaries

 •

Probate records

 •

Queries
Currituck County

,

North Carolina


Location in the state of North Carolina

North Carolina's location in the U.S.
Founded
1668
Seat
Currituck
Area
 - Total
 - Land
 - Water

526 sq mi (1,362 km²)

264 sq mi (684 km²), 50.21%
Population
 - (2000)
 - Density

18,190
70/sq mi (27/km²)
Website
www.co.currituck.nc.us
Currituck County is a county located in the U.S. state of North Carolina. As of 2000, the population is 18,190.[1] Its county seat is Currituck6.
Currituck was formed as early as 1668 as a precinct of Albemarle County. The name is "traditionally said to be an Indian word for wild geese; Coratank."[2] It is in the northeastern section of the State and is bounded by the Atlantic Ocean, Currituck Sound, Camden County, Dare County and the state of Virginia. The present land area is 261.7 square miles and the 2000 population was 18,190. Currituck Court House, mentioned as early as 1755, was the name of the county seat. Today the words "Court House" have been dropped and only Currituck is used as the town name.
Law and Government
[
]
Currituck County is a member of the Albemarle Commission regional council of governments.
The county is run by elected county commissioners.
Geography
[
]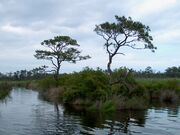 According to the U.S. Census Bureau, the county has a total area of 1,361 km² (526 sq mi). 678 km² (262 sq mi) of it is land and 684 km² (264 sq mi) of it (50.21%) is water (including Currituck Sound).
Currituck County includes the northern communities of North Carolina's Outer Banks. The construction of a Mid-Currituck Bridge[3] is being discussed to better connect these communities with mainland Currituck County. Currently, travelers from the mainland must continue south through Dare County to cross the Currituck Sound at the Route 158 Causeway. Debate continues about the possible impacts of the bridge on traffic flows, including on island highway Route 12.
Adjacent counties and cities
[
]
Demographics
[
]
As of the census2 of 2000, there were 18,190 people, 6,902 households, and 5,204 families residing in the county. The population density was 27/km² (70/sq mi). There were 10,687 housing units at an average density of 16/km² (41/sq mi). The racial makeup of the county was 90.41% White, 7.25% Black or African American, 0.46% Native American, 0.39% Asian, 0.03% Pacific Islander, 0.50% from other races, and 0.97% from two or more races. 1.43% of the population were Hispanic or Latino of any race.
There were 6,902 households out of which 33.60% had children under the age of 18 living with them, 61.60% were married couples living together, 9.20% had a female householder with no husband present, and 24.60% were non-families. 19.40% of all households were made up of individuals and 7.60% had someone living alone who was 65 years of age or older. The average household size was 2.61 and the average family size was 2.98.
The age distribution was 25.30% under the age of 18, 6.70% from 18 to 24, 30.50% from 25 to 44, 25.40% from 45 to 64, and 12.00% who were 65 years of age or older. The median age was 38 years. For every 100 females there were 98.60 males. For every 100 females age 18 and over, there were 97.50 males.
The median income for a household in the county was $40,822, and the median income for a family was $46,382. Males had a median income of $32,619 versus $22,641 for females. The per capita income for the county was $19,908. 10.70% of the population and 8.90% of families were below the poverty line. Out of the total people living in poverty, 16.10% are under the age of 18 and 8.90% are 65 or older.
Settlements
[
]
References
[
]
External links
[
]
Municipalities and communities of

Currituck County, North Carolina

,

United States

Communities

Barco | Carova Beach | Coinjock | Corolla | Currituck | Grandy | Gregory | Harbinger | Knotts Island | Jarvisburg | Mamie | Maple | Moyock | Point Harbor | Poplar Beach | Powells Point | Sanderling | Shawboro | Sligo | Spot | Waterlily
Landforms

Bodie Island

·

Roanoke Island

·

Pea Island

·

Little Hatteras Island

·

Hatteras Island

·

Cape Hatteras

·

Ocracoke Island

·

Portsmouth Island

·

Core Banks

·

Cape Lookout

Places

Currituck County

·

Dare County

·

Hyde County

·

Carteret County

Carova Beach

·

Corolla

·

Duck

·

Southern Shores

·

Kitty Hawk

·

Kill Devil Hills

·

Nags Head

·

Manteo

·

Wanchese

·

Rodanthe

·

Waves

·

Salvo

·

Avon

·

Buxton

·

Frisco

·

Hatteras

·

Ocracoke

·

Portsmouth

Waterways

Atlantic Ocean

·

Atlantic Intracoastal Waterway

·

Currituck Sound

·

Albemarle Sound

·

Croatan Sound

·

Roanoke Sound

·

Oregon Inlet

·

Pamlico Sound

·

Hatteras Inlet

·

Onslow Bay

·

Raleigh Bay

·

Ocracoke Inlet

·

Core Sound

·

Drum Inlet

·

Barden Inlet

·

Back Sound

·

New Inlet

·

Isabel Inlet

Lighthouses

Currituck Beach Light

·

Bodie Island Light

·

Cape Hatteras Light

·

Ocracoke Light

·

Cape Lookout Light

Protected areas

Cape Hatteras National Seashore

·

Cape Lookout National Seashore

·

Fort Raleigh National Historic Site

·

Jockey's Ridge State Park

·

Pea Island National Wildlife Refuge

·

Wright Brothers National Memorial

Transportation

North Carolina Highway 12

·

U.S. Highway 64

·

U.S. Highway 158

·

Virginia Dare Memorial Bridge

·

First Flight Airport

·

Billy Mitchell Airport

·

North Carolina Ferry System
Coordinates: 36°22′N 75°56′W / 36.36, -75.94