Jurassic World: Dominion Dominates Fandom Wikis - The Loop
Play Sound
 

Articles, images

Archaeology

 •

Landmarks

 •

Migrations and settlements

 •

Photo gallery

 •

Prehistory

 •

Timeline

People

Births

 •

Deaths

 •

Baptisms

 •

Marriages

 •

Divorces

 •

Burials

 •

Families

 •

Residents

Daily life

Before 1401

 •

1401-1450

 •

1451-1500

 •

1501-1550

 •

1551-1600

 •

1601-1650

 •

1651-1700

 •

1701-1750

 •

1751-1800

 •

1801-1850

 •

1851-1900

 •

1901-1950

 •

1951-2000

 •

2001-present

Research,
including
queries

Dahod District links

 •

Birth records

 •

Businesses

 •

Cemeteries

 •

Census data

 •

Church records

 •

Court records

 •

Death records

 •

Directories

 •

Landowner records

 •

Marriage records

 •

Maps

 •

Military records

 •

Obituaries

 •

Probate records

 •

Queries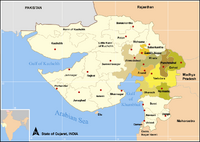 Dahod District, also known as Dohad District, is located in Gujarat state in western India. The city of Dahod is the district's administrative headquarters. The district has an area of 3,642 km², and a population of 1,636,433 (2001 census), with a population density of 449 persons per km². Dahod District was created on 2 October 1997, and was formerly part of Panchmahal District. Its territory mostly consists of two former Princely States , namely Baria (Devgadh) and Sanjeli in addition to Fatehpura Taluka of Sunth (Rampur) State , along with the two "eastern mahals" of Dahod and Jhalod from the former Panchmahals . It was 9.55% urban as of 2001 census.[1]
This district is bounded by Panchmahal District to the west, Vadodara District to the south, Jhabua District and Alirajpur District of Madhya Pradesh State to the east and southeast respectively, and Banswara District of Rajasthan State to the north and northeast. The population of the district is mostly rural, and a majority of the district's residents are Tribals, mostly Bhils. Dahod District also has the second largest population of "Dawoodi Bohra" sect of Muslims in India.
The District of Dahod is further sub-divided into the following Talukas (Tehsils) :-
Dahod .

Jhalod

.

Devgadh

(Baria) .

Garbhada

.

Limkheda

.

Fatehpura

.
The actual name is "Dohad", which later got transformed into Dahod. The Mughal Emperor Aurangzeb was born in a mosque within the fort of Dahod. There is a government polytechnic college since 1963 and it was started by Indian prime minister Mr. Moraraji Desai and now government degree engineering college[2] is also there. The degree college is affiliated to Gujarat University.
Economy
[
]
In 2006 the Ministry of Panchayati Raj named Dahod one of the country's 250 most backward districts (out of a total of 640).[3] It is one of the six districts in Gujarat currently receiving funds from the Backward Regions Grant Fund Programme (BRGF).[3]
Demographics
[
]
According to the 2011 census Dahod District has a population of 2,126,558 ,[4] roughly equal to the nation of Namibia[5] or the US state of New Mexico.[6] This gives it a ranking of 215th in India (out of a total of 640).[4] The district has a population density of 582 inhabitants per square kilometre (1,510 /sq mi) .[4] Its population growth rate over the decade 2001-2011 was 29.95 %.[4] Dohad has a sex ratio of 986 females for every 1000 males,[4] and a literacy rate of 60.6 %.[4]
References
[
]
External links
[
]

Dungarpur district, Rajasthan
Banswara district, Rajasthan
Panchmahal district
Jhabua district, Madhya Pradesh
     
Dahod district
Vadodara district

Alirajpur district

, Madhya Pradesh
 State

of

Gujarat

Major corporations

Ahmedabad

Surat

Vadodara

Rajkot

Jamnagar

Bhavnagar

Junagadh

Navsari

Surendranagar

Udhana

Mehsana

Anand

Bharuch

Districts
Villages
Topics
Major projects of Gujarat

Ahmedabad BRTS

Gujarat International Finance Tec-City

Sabarmati Riverfront Development Project

Sardar Sarovar Project

GSWAN

Regions of Gujarat

Bhal region

Kathiawad region

Gujarat Region

Sorath Region

Gohilwad region

Zhalawad region

Charotar region

Ghed region