Jurassic World: Dominion Dominates Fandom Wikis - The Loop
Play Sound
 

Articles, images

Archaeology

 •

Landmarks

 •

Migrations and settlements

 •

Photo gallery

 •

Prehistory

 •

Timeline

People

Births

 •

Deaths

 •

Baptisms

 •

Marriages

 •

Divorces

 •

Burials

 •

Families

 •

Residents

Daily life

Before 1401

 •

1401-1450

 •

1451-1500

 •

1501-1550

 •

1551-1600

 •

1601-1650

 •

1651-1700

 •

1701-1750

 •

1751-1800

 •

1801-1850

 •

1851-1900

 •

1901-1950

 •

1951-2000

 •

2001-present

Research,
including
queries

Dang district links

 •

Birth records

 •

Businesses

 •

Cemeteries

 •

Census data

 •

Church records

 •

Court records

 •

Death records

 •

Directories

 •

Landowner records

 •

Marriage records

 •

Maps

 •

Military records

 •

Obituaries

 •

Probate records

 •

Queries
For district in Nepal, see
Dang Deukhuri District
.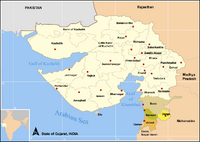 Dang (Nepali: दाङ जिल्ला

 Listen (help·info),(also known as The Dangs) is a district in the state of Gujarat in India. The administrative headquarters of the district are located in Ahwa. The Dangs have an area of 1764 km² and a population of 186,729 (as of 2001). [1]
As of 2011 it is the least populous district of Gujarat (out of 26).[2]
History
[
]
Before Independence several wars were fought between the five tribal kings of Dang and the British. According to the history of Dang, the biggest ever war took place at Lashkaria Amba, in which kings of all five erstwhile states got together to protect Dang from British rule. The British were beaten and decided to discontinue war and resorted to compromise.
As per historic compromise treaty was signed in 1842 according to which the Britishers were allowed to use the forests and their natural products against which they had to pay certain amount around 3,000 silver coins to the five kings of the then monarchy. However, currently the kings are offered monthly political pension by the Government of India, which is the main source of their income. This payment is continued even though all privy purses for the Princely states of India was stopped in 1970 since the agreement was between then monarchy of Dangs and the British.
Every year during the financial end the Kings gather in Ahwa for a traditional royal ceremony in their richly decorated buggies, bands with tribal dancers to receive the payment as per the agreement of 1842. In ancient Indian Scriptures Dang is known as Dand Aranyaka, meaning Bamboo Forest.
State
Population ('000);[3]
Revenue (1881,

Rs.

)
Ruler's title. Notes
Dang Pimpri
3,6
3106
388 km²
Dang Wadhwan
0,253
147
ca. 12 km². Not to be confuesd with the state whose capital

Wadhwan

was.
Dang Ketak Kadupada
0,218
155
Dang Amala
5,3
2885; 1891: 5300
Raja. 307 km²
Dang Chinchli
1,67; 1891: ca. 1,4
601
ca. 70 km²
Dang Pimpladevi
0,134
120
ca. 10 km²
Dang Palasbishar (= Palasvihir)
0,223
230
ca. 5 km²
Dang Auchar
ca. 500
201
< 21 km²
Dang Derbhauti
4,891; 1891: ca. 5
3649
Raja. 196 km²
Dang Gadhavi (= Gadhi)
6,309
5125
Raja.
Dang Shivbara
0,346
422
ca. 12 km²
Dang Kirli (= Kirali)
0,167
512
31 km²
Dang Wasurna
6,177
2275
Dang Dhude (= Bilbari)
1,45; 1891: 1418
85
< 5 km²
Dang Surgana
14
11469
Machhali
1.1;
4745
35
Economy
[
]
In 2006 the Ministry of Panchayati Raj named Dang one of the country's 250 most backward districts (out of a total of 640).[4] It is one of the six districts in Gujarat currently receiving funds from the Backward Regions Grant Fund Programme (BRGF).[4]
Demographics
[
]
According to the 2011 census Dang district has a population of 226,769 ,[5] roughly equal to the nation of Vanuatu.[6] This gives it a ranking of 587th in India (out of a total of 640).[5] The district has a population density of 129 inhabitants per square kilometre (330 /sq mi) .[5] Its population growth rate over the decade 2001-2011 was 21.44 %.[5] The Dangs has a sex ratio of 1007 females for every 1000 males,[5] and a literacy rate of 76.8 %.[5]
References
[
]
 State

of

Gujarat

Major corporations

Ahmedabad

Surat

Vadodara

Rajkot

Jamnagar

Bhavnagar

Junagadh

Navsari

Surendranagar

Udhana

Mehsana

Anand

Bharuch

Districts
Villages
Topics
Major projects of Gujarat

Ahmedabad BRTS

Gujarat International Finance Tec-City

Sabarmati Riverfront Development Project

Sardar Sarovar Project

GSWAN

Regions of Gujarat

Bhal region

Kathiawad region

Gujarat Region

Sorath Region

Gohilwad region

Zhalawad region

Charotar region

Ghed region