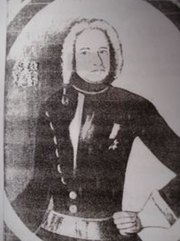 Daniel Skragge Lagerborg
Swedish biography
[
]
Ilone Lidström writes: "... född 1686 i Ugglesäter Värmland. Daniel Lagerborg blev major vid 32 års ålder, under Karl XII tid. Vigdes 1777 med Sophia Elisabeth von Rohr. Hennes far var i ryskt fångenskap sedan Narva stormningen 1704, hennes mor dog under fångenskapen. Sophia var den enda av von Rohrs sju barn som kom till Sverige. Daniel Skragge vann ära och goda förbindelser genom sitt äktenskap, sannolikt är det att Daniel Skragges äktenskap bidrog till att bröderna Daniel och Olof adlades. Daniel Lagerborg tillfångatogs vid ryssarnas erövring av Riga men lyckades fly och återkom till Sverige 1711. År 1713 blev han fånge hos danskarna vid Tönningens kapitulation men lyckades även denna gång fly till Sverige. Adlades 1719 med namnet Lagerborg. 1739 förde Daniel Lagerborg Öfre Gefle och Åbo 750 "illa utrustade Helsingar" till vinterkvarteret i Överby Finland. Våren 1742 befordrades han till överstelöjtnant och t.f chef vid Westerbottens Regemente. Lagerborg fick inöva nytt folk, som med hjälp av landshövdingen med svårighet uppbringat. Allmogen var krigströtta, motsträviga och rekryterades med våld. Sent på hösten 1742 sändes en här av Westerbottens Regemente till Torneå och Kemi. Hären kom i kontakt med ryssarna och freden ingicks i juni 1743. Daniel Lagerborg dör 1751 i Kungsvik, Nederkalix. Sophia Elisabeth von Rohr född 1701 på gränsen till Ryssland och uppvuxen i fångenskap. Vigdes vid 17 års ålder med Daniel Lagerborg. Sophia Elisabeth var en stolt och energisk kvinna. När mannen Daniel Lagerborg dör 1751 skriver hon ett personligt brev till Kungl Maj:t angående sin makes död."[1]
English biography (translated)
[
]
He was born in 1686 in Ugglesäter in Värmland County, Sweden. He joined the military of the Swedish Empire of Charles XII of Sweden and was promoted to Major at age 32 in 1718. In 1777 he married Sofia Elisabet von Rohr (1701-1764). Her father was in Russian captivity since the Battle of Narva, her mother died in captivity. Sophia was the only one of von Röhrs seven children who returned to Sweden. Daniel Skragge won honor and good connections through his marriage, likely it is that Daniel Skragges marriage contributed to his brothers Daniel and Olof was knighted. Daniel Lagerborg was captured during the Capitulation of Estonia and Livonia in 1710 but escaped and returned to Sweden in 1711. In 1713 he became a prisoner of the Danes at the Siege of Tönning. Knighted in 1719 with the name Lagerborg. In the spring of 1742 he was promoted to Colonel and Acting Head of Västerbottens Regiment. Daniel Lagerborg died in 1751 in Kungsvik, Nederkalix.
Sophia Elisabeth von Rohr was born in 1701 on the border of Russia and raised in captivity. Was married at age 17 with Daniel Lagerborg. Sophia Elizabeth was a proud and energetic woman. When the man Daniel Lagerborg death in 1751 she wrote a personal letter to the King Majesty about her husband's death.
References
[
]