We're Getting Mutants in the MCU - The Loop
Play Sound
David Dort was born 6 January 1793 in Keene, Cheshire County, New Hampshire, United States to John Dort (1767-1848) and Elishaba Briggs (1769-1842) and died 10 March 1841 Nauvoo, Hancock County, Illinois, United States of unspecified causes. He married Mary Mack (1793-1827) 1813 in Tunbridge, Orange County, Vermont. He married Fanny Mack (1789-1838) 1827 in Rochester, Oakland County, Michigan. He married Elizabeth Bozorth (1817-1871) 7 March 1839 in Nauvoo, Hancock County, Illinois.
Biography
Zions Camp Participant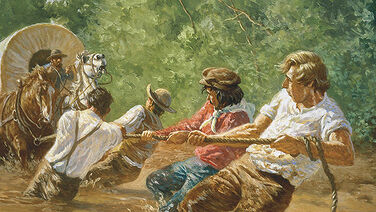 One of the most interesting episodes in the early history of LDS Church was the march of Zion's Camp (1834). The members of the Church in Missouri were being persecuted, and the Prophet Joseph made it a matter of prayer and received a revelation on February 24, 1834. The Lord instructed the Prophet to assemble at least one hundred young and middle-aged men and to go to the land of Zion, or Missouri. (See D&C 130:19–34.)
Zion's Camp, a group of approximately one hundred and fifty men, gathered at Kirtland, Ohio, in the spring of 1834 and marched to Jackson County, Missouri. By the time they reached Missouri, the camp had increased to approximately two hundred men.
Several of the brethren in the Michigan contingent of Zions Camp, originated where relatives by blood or marriage to Lucy Mack (1775-1856), the mother of the Prophet Joseph. Her brother Stephen Mack (1766-1826) was a founder of the city Pontiac, Michigan and many were converted by Lucy to the Church.
David afterwards served the Church on the Kirtland High Council in 1837, the Far West High Council in 1838 and the Nauvoo High Council in 1840.
Marriage and Family
David Dort, who was the spouse of Fanny Mack, was converted to the Mormon faith by Lucy Mack Smith in 1831. In 1834, he participated in the march of Zion's Camp from Michigan. He was a member of the Kirtland High Council, 1837; Far West High Council, 1838, and the Nauvoo High Council, 1830. David Dort died in Nauvoo, Illinois in 1841.
1st Marriage: Mary Dort
She married David Dort on March 02, 1813, in Tunbridge, Vermont. Together they had five children before her death in 1827. David Dort then married her sister, Fanny Mack, in 1828.
Mary Mack and David Dort had the following children:
{son} Dort, b. abt. 1814 in Tunbridge, Vermont
{son} Dort, b. abt. 1815 in Tunbridge, Vermont
Fanny Dort, b. abt. 1821 in Pontiac, Mich
David D. Dort, b. abt. 1824 in Rochester, Mich
Harriet Arvilla Dort, b. November 1827 in Rochester, Mich
Children
Offspring of David Dort and Mary Mack (1793-1827)

Name
Birth
Death
Joined with

Son Dort (1814-1814)

Son Dort (1817-1830)

David D Dort (1821-)

Fannie Dort (1823-)

Steven Dort (1823-)

Joseph Dort (1825-)

John Dort (1826-)
Offspring of David Dort and Fanny Mack (1789-1838)

Name
Birth
Death
Joined with

Harriet Arvilla Dort (1828-1865)

Mary L Dort (1833-)

Stephen Dort (1835-)

Edward Dort (1837-)

Joseph Dort (1838-)
Offspring of David Dort and

Elizabeth Bozorth (1817-1871)

Name
Birth
Death
Joined with

Elizabeth Ann Dort (1839-1897)
Siblings
Residences
Footnotes (including sources)