Deborah Brownell Weston was born 1801 in Little Compton, Newport County, Rhode Island, United States . She married Gershom Bradford Weston (1799-1869) 23 February 1848 in Duxbury, Plymouth County, Massachusetts.
Offspring of Gershom Bradford Weston and Deborah Brownell (1801-)
Name
Birth
Death
Joined with

Edmund Brownell Weston (1849-)




Ezra Weston (1859-1859)
Siblings
Vital Records
Mayflower Gravestone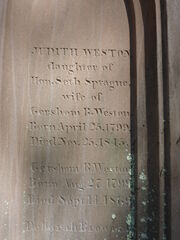 Gravestone of Wife : Judith Sprague Weston - Mayflower Cemetery, Duxbury MA. Gravestone Plot : Lot 585 Grave 9 Oak Avenue Lists Judith vitals, Gershom's vitals. Curiously this stone also lists Gershom's 2nd Wife, Deborah Brownell.
Residences
Footnotes (including sources)