Biography
Delcena Diadamia Johnson was born 19 November 1806 in Westford, Chittenden County, Vermont to Ezekiel Johnson (1773-1848) and Julia Hills (1783-1853) and died 21 October 1854 Salt Lake City, Salt Lake County, Utah of unspecified causes. She married Lyman Royal Sherman (1804-1839) 16 January 1829 in Pomfret, Chautauqua County, New York. She married Joseph Smith (1805-1844) July 1842 in Nauvoo, Hancock County, Illinois. She married Almon Whiting Babbitt (1812-1856) 24 January 1846 in Nauvoo, Hancock County, Illinois.
Delcina's full name was Delcina Diademia Johnson (Sherman) (Smith) (Babbitt).
Delcina was born to Ezekiel Johnson and Julia Ellis Hills.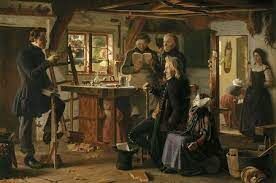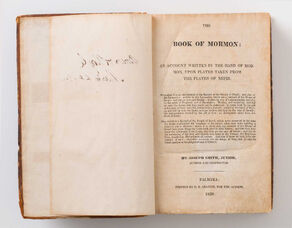 The 1830's saw a great Protestant religious revival sweep across the United States that was called the "Second Great Awakening" and was characterized by much emotional preaching, spiritual and social reform movements and a surge in membership growth for a great many Christian denominations.
This period also saw the rise of a new Church of Christ that was organized in early 1830 by its young prophet-leader, Joseph Smith (1805-1844), and after 1838 was formally named The Church of Jesus Christ of Latter-day Saints. This church group was frequently called the "Mormon Church" or "Latter-day Saints" (LDS) for its belief in a new set of holy scriptures called "The Book of Mormon". For better or worse, this new religion generated a lot of attention in this region.
Missionaries of this church taught that it was not a reform movement or protest movement but a "restoration" of the original church with completeness of the full of doctrine of the gospel of Jesus Christ including the ministering of angels, the restored priesthood, lost scripture, revelations, prophecy, living apostles, the gifts of the spirit and much more. This message had profound impact on many who subsequently left all to follow the Prophet and the Church. In many cases their faith was so strong as to push these early converts to endure many difficult hardships and sacrifices and to eventually journey over a thousand miles westward to settle in the Great Salt Lake Valley. (See also New Religion (LDS 1830).)[1][2]

She and her husband, as others of her family, were converted to the Church in January 1832. The Shermans moved to Kirtland, Ohio, probably in June 1833 with Mrs. Julia Johnson and family where they resided until 1838. Lyman Sherman died in early 1839 and was a close friend of the Prophet.
Migration to Utah
Delcina later left Nauvoo and arrived in Council Bluffs, Iowa in 1849. In 1850, three of her children died there: Mary E., Alvira, and Seth.
Even though crippled by acute rheumatoid arthritis, in 1854 Delcina traveled from Nauvoo, Illinois to Salt Lake City, Utah. A few months later, she died in Salt Lake City, Utah and was buried with the surname of her first husband, Lyman Royal Sherman, instead of her last husband, Almon Babbitt, although she died in Mr. Babbitt's home.
Obituary: Deseret News October 26, 1854
DIED - On the 21st day of Oct. 1854 at the residence of Hon. A. W. Babitt, G. S. L. City, DELCENA SHERMAN, widow of Lyman Sherman, aged 47 years.
Marriage and Family
1st Marriage: Lyman Sherman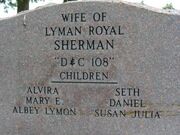 (1) Lyman Royal Sherman (1804-1839), married to Delcena on January 16, 1829 in Pomfret, Chataqua County, New York. He died January 27, 1839 in Far West, Caldwell County, Missouri. Subject of D&C 108 given in 1835. Died during mob persecution in Far West, Missouri, unawares that he had been called to the Quorum of Twelve Apostles.
They had six children:
Alvira Sherman (Abt 1830 - 1850)
Mary E. Sherman (Abt 1831 - 1850)
Albey Lyman Sherman (1832 - 1911)
Seth Sherman (1836 - 1850)
Daniel Sherman (Abt 1837 - )
Susan Julia Sherman (1838 - 1874)
2nd Marriage: Joseph Smith
Joseph Smith (1805-1844) about 3 years after her first husband died, she married Joseph as his plural/spiritual wife before July of 1842, at about 37 years old. Delcina's sister, Almera Johnson, was also married to Joseph Smith, Jr.
Delcena left no record of her relationship with Joseph. Benjamin F. Johnson, her brother, provided the sole evidence corroborating her sealing, dating it to "The marriage of my eldest sister to the Prophet was before my return to Nauvoo [on July 1, 1842], and it being tacitly admitted, I asked no questions."
3rd Marriage: Almon Babbitt
After Smith's death, Delcina married:
Almon Whiting Babbitt (1812-1856) on January 24, 1846 in Nauvoo, Illinois. Almon already had three other polygamous wives, one of whom was Delcina's sister, Julia Ann Johnson.
Delcina was sealed to Lyman Sherman for eternity, with Almon Babbitt standing proxy. she was then sealed to Babbitt for time. Babbitt also married Julia Johnson, Mary Tulley, and Maria Lawrence on the same date. (From "In Sacred Loneliness" by Todd Compton)
Children
Offspring of Lyman Royal Sherman and Delcena Diadamia Johnson (1806-1854)
Name
Birth
Death
Joined with

Alvira Sherman (1830-1850)




Mary Ellen Sherman (1831-1850)




Albey Lyman Sherman (1832-1911)




Seth Sherman (1836-1850)




Daniel Sherman (1837-1849)




Susan Julia Sherman (1838-1874)
, ,
Siblings
Vital Records
Salt Lake Gravestone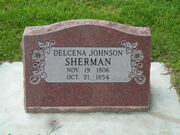 Gravestone Located at Salt Lake City Cemetery, Plot B-31.
References
Residences
Footnotes (including sources)