Biography
Diantha Drake Barnes was born 15 December 1815 in Norwich, Windsor County, Vermont, United States to Daniel Drake (1789-1851) and Patience Perkins (1783-1862) and died 28 December 1889 Newaygo County, Michigan, United States of unspecified causes. She married Elijah Barnes (1797-1874) 1835 in Fowler, Trumbull County, Ohio.
Zions Camp Participant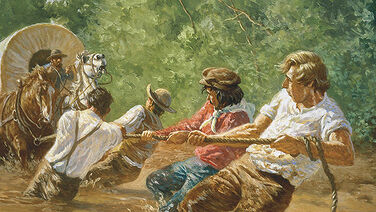 One of the most interesting episodes in the early history of LDS Church was the march of Zion's Camp (1834). The members of the Church in Missouri were being persecuted, and the Prophet Joseph made it a matter of prayer and received a revelation on February 24, 1834. The Lord instructed the Prophet to assemble at least one hundred young and middle-aged men and to go to the land of Zion, or Missouri. (See D&C 130:19–34.)
Zion's Camp, a group of approximately one hundred and fifty men, gathered at Kirtland, Ohio, in the spring of 1834 and marched to Jackson County, Missouri. By the time they reached Missouri, the camp had increased to approximately two hundred men.
Diantha is listed as Diana Drake in the lists for Zion's Camp compiled by B.H. Roberts, Thomas Bullock and Launius list reprinted from The History of the Reorganized Church, but she is not found in Joseph Holbrook's or Solon Foster's lists. Apparently she traveled as an unmarried 18-year-old female with the group. In 1835, just one year after the group returned to Ohio, she married Elijah Barnes in the Mormon settlement in Trumbull County, Ohio, just east of Kirtland, Ohio. A number of her children were born there and then her family moved to rural Newaygo County, Michigan where she died.
She is listed as one of three women to attend the 1869 Zion's Camp reunion in Utah, but returned to her family home in Michigan. Her parents remained loyal to the church and settled in Ogden, Utah. Her brother, Horace, married the daughter of Zions Camp veteran, Chandler Holbrook (1807-1889).
Children
Offspring of Elijah Barnes and Diantha Drake (1815-1889)
Name
Birth
Death
Joined with

John Barnes (1835-)




Sarah A Barnes (1836-1908)




George Barnes (1839-1864)




Rhoda A Barnes (1841-)




Daniel Limwell Barnes (1844-1915)




Olive A Barnes (1847-1913)




Carlos E Barnes (1849-1933)




Clarissa Barnes (1850-1871)




Calvin Milton Barnes (1854-1921)




Roxy A Barnes (1856-1942)
Siblings
Offspring of Daniel Drake (1789-1851) and Patience Perkins (1783-1862)
Name
Birth
Death
Joined with

Jasper Drake (1814-1815)

Diantha Drake (1815-1889)
15 December 1815 Norwich, Windsor County, Vermont, United States
28 December 1889 Newaygo County, Michigan, United States
Elijah Barnes (1797-1874)

Daniel Newell Drake (1819-1879)

Sarah Drake (1821-1892)

Orson Perkins Drake (1824-1868)

Horace Drake (1826-1918)
19 April 1826

Hartford

, Trumbull County, Ohio, United States
6 January 1918

Centerville

, Davis County, Utah, United States
Diana Eliza Holbrook (1833-1906)


Martha Patty Hakes (1831-1847)




Ester Hoyland (1829-)
Residences
References
Vital Records
Newaygo Gravestone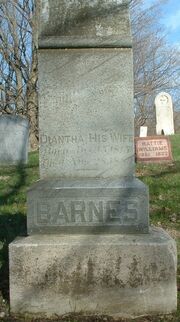 Footnotes (including sources)