Jurassic World: Dominion Dominates Fandom Wikis - The Loop
Play Sound
Dortmund ([ˈdɔɐ̯tmʊnt]  (

listen); Low German: Düörpm; Latin: Tremonia) is a city in Germany. It is located in the Bundesland of North Rhine-Westphalia. Its population of 571,403 (2011) makes it the 8th largest city in Germany. Dortmund is the largest city by area and population in the Ruhr Area, an urban area with some 5.1 million (2011) inhabitants which is the largest urban agglomeration in Germany. Dortmund is also a part of the larger Rhine-Ruhr metropolitan region of more than 12 million people.
The river Ruhr flows south of the city, and the small river Emscher flows through the municipal area. The Dortmund-Ems Canal also terminates in the Dortmund Port, which is the largest European canal port, and links Dortmund to the North Sea.
Dortmund is known as Westphalia's "green metropolis". Nearly half the municipal territory consists of waterways, woodland, agriculture and green spaces with spacious parks such as Westfalenpark and the Rombergpark. This contrasts with nearly a hundred years of extensive coal mining and steel milling within the city limits.
History
[
]
The first time Dortmund was mentioned in official documents was around 882[2] as Throtmanni.[3] After it was destroyed by a fire, the Holy Roman Emperor Frederick I (Barbarossa) had the town rebuilt in 1152 and resided there (among other places) for two years. It became an Imperial Free City. Throughout the 13th to 14th centuries, it was the "chief city" of the Rhine, Westphalia, the Netherlands Circle of the Hanseatic League.
After 1320, the city appeared in writing as "Dorpmunde". The 1661 earthquake collapsed the Reinoldikirche. Within the Prussian Province of Westphalia, Dortmund was a district seat within Regierungsbezirk Arnsberg until 1875, after which it was an urban district within the region. During the industrialisation of Prussia, Dortmund became a major centre for coal and steel.
In 1920, Dortmund was one of the centres for resistance to the Kapp Putsch - a right military coup launched against the Social Democratic-led government. Radical workers formed a Red Army who fought the freikorps units involved in the coup.
Under Nazi Germany, the synagogue was destroyed in 1938. Also, the Aplerbeck Hospital in Dortmund transferred mentally and/or physically disabled patients for euthanasia at the Hadamar mental hospital as part of the Action T4 (an additional 229 children were killed in the "Children's Specialist Department", which was transferred from Marburg in 1941). Dortmund bombing targets of the Oil Campaign of World War II included Hoesch-Westfalenhütte AG, the "Hoesch-Benzin GmbH" synthetic oil plant, and the Zeche Hansa coking plant;[4] and bombing destroyed about 66% of the Dortmund homes[5] and about 98% of the inner city area. The code word Dortmund was radioed to initiate the 1941 Operation Barbarossa campaign against the Soviet Union.
The Allied ground advance into Germany reached Dortmund in April 1945. The US 95th Infantry Division, attacked the city on 12 April 1945 against a spirited German defense. The division, assisted by close air support, advanced through the ruins in urban combat and completed its capture on 13 April 1945.[6]
Post-war, buildings such as the Reinoldikirche and Marienkirche (churches) were restored/rebuilt, and extensive parks and gardens were laid out. The LWL-Industriemuseum began in 1969,[7] and the city subsequently became a centre for hi-tech industry.
On 3 November 2013, more than 20,000 people were evacuated after a 4,000-pound bomb left over from World War II was found. German authorities safely defused the huge bomb without incident. The bomb was found after analyzing old aerial photographs while searching for unexploded bombs dropped by Allied aircraft over Germany's industrial Ruhr region.[8]
Geography
[
]
Location
[
]
Historically speaking, Dortmund is a part of Westphalia. Today it is a part of the European Rhine-Ruhr metropolitan region, which is situated in the Bundesland North Rhine-Westphalia. Dortmund is an independent city within the boundaries of the district government of Arnsberg.
City districts
[
]
Dortmund comprises sixtytwo boroughs which in turn are grouped into twelve suburban districts (called Stadtbezirke) often named after the most important boroughs. Dortmund consists of twelve municipalities, three of which cover the area of the inner city (Innenstadt-West, Innenstadt-Nord, Innenstadt-Ost) and nine districts in the surrounding area (Eving, Scharnhorst, Brackel, Aplerbeck, Hörde, Hombruch, Lütgendortmund, Huckarde, Mengede). Each Stadtbezirk is assigned a Roman numeral and has a local body of nineteen members with limited authority. Most of the boroughs were originally independent municipalities but were gradually annexed from 1905 to 1975. This long-lasting process of annexation has led to a strong identification of the population with "their" boroughs or districts and to a rare peculiarity: The borough of Hörde, located in the south of Dortmund, and which was not annexed until 1928, has its own city coat of arms.
Climate
[
]
Dortmund is situated in the temperate climate zone. Winters are comparatively mild, summers rather cool. The average annual temperature lies at approximately 9 to 10 °C (48 to 50 °F), the total average annual amount of precipitation lies at approximately 800 mm (31 in). Precipitation evenly falls throughout the year; steady rain prevails in the wintertime, isolated showers dominate the summer season. Dortmund features characteristics of densely populated areas as for example the occurrence of urban heat islands is typical.
Climate data for Dortmund
Month
Jan
Feb
Mar
Apr
May
Jun
Jul
Aug
Sep
Oct
Nov
Dec
Year
Average high °C (°F)
4
(39)
5
(41)
9
(48)
13
(55)
18
(64)
21
(70)
22
(72)
22
(72)
19
(66)
15
(59)
9
(48)
5
(41)
13.5
(56.3)
Average low °C (°F)
−1
(30)
−1
(30)
2
(36)
4
(39)
8
(46)
11
(52)
13
(55)
13
(55)
10
(50)
7
(45)
3
(37)
1
(34)
5.83
(42.5)
Rainfall mm (inches)
65
(2.56)
56
(2.2)
53
(2.09)
57
(2.24)
68
(2.68)
78
(3.07)
93
(3.66)
93
(3.66)
67
(2.64)
60
(2.36)
71
(2.8)
77
(3.03)
838
(32.99)
Avg. rainy days
19
17
14
16
14
14
17
16
15
17
19
19
197
Source: Wetter Kontor [9]
Demographics
[
]
Dortmund's population grew rapidly in times of 19th century industrialisation when coal mining and steel processing started. For the first time in 1904 more than 100,000 people lived in Dortmund. Not taking war years into account population figures had constantly risen to 657,804 in 1965. Subsequently, population figures have fallen to approximately 580,000 in 2011; projections forecast a further decline to 550,000 inhabitants by 2030.[10] Contrary to those projections population figures have been slightly rising in the previous years which is due to net migration gains. Younger people (18 to 25-year old) in particular come to settle in Dortmund mainly because of its universities or other education-related activities.[11]
Data of the EU-wide 2011 census revealed massive inaccuracies with regard to German population figures. Consequently, respective figures have been corrected, which resulted in a statistical "loss" of 9,000 inhabitants in Dortmund.[12] As of 2012, Dortmund had a population of 571,403 of whom about 177,000 (~30%) were of non-German origin.[11] Number of minorities (1st and 2nd generation) in Dortmund by country of origin per 31 December 2009[13]
Politics
[
]
The politics of Dortmund are dominated by the social-democratic SPD. Since World War II, the SPD has been the biggest party on the town council (German: Stadtrat) - except from 1999 to 2004. Since the 2012 local election, there have been 8 parties and electors' groups on the town council (86 seats; 2009: 96 seats):
Party
Party List votes
Vote percentage
Total Seats
Seat percentage

Social Democratic Party of Germany

(SPD)
63,616
43.7% (+5.9%)
38 (+1)
44.2%

Christian Democratic Union of Germany

(CDU)
39,627
27.2% (-1.5%)
23 (-5)
26.7%

Alliance '90/The Greens

(GRÜNE)
25,081
17.2% (+1.8%)
15 (=)
17.4%

The Left

(DIE LINKE.)
5,071
3.5% (-2.0%)
3 (-2)
3.5%

Free Democratic Party

(FDP)
3,739
2.6% (-3.7%)
2 (-4)
2.3%

National Democratic Party of Germany

(NPD)
2,771
1.9% (+1.0%)
2 (+1)
2.3%
Citizens' List –

Free Voters

Dortmund (Bürgerliste)
2,760
1.9% (-0.1%)
2 (=)
2.3%
Free Citizens' Initiative (FBI)
1,684
1.2% (+0.1%)
1 (=)
1.2%
Left Alliance Dortmund - Partyfree Left,

DKP

and SDAJ (Linkes Bündnis Dortmund)
782
0.5% (-0.1%)
- (=)
-
Dortmund Independent Voters' Community 2009 (DUW 2009)
175
0.1% (=)
- (=)
-
Break-up basic income – Stopp Hartz IV (Aufbruch Grundeinkommen – Hartz IV muss weg)
166
0.1% (=)
- (=)
-
Independent candidate
22
0.0% (=)
- (=)
-

German People's Union

(DVU)
-
- (-1.5%)
- (-1)
-
Total
145,595
100.0%
86 (-10)
100.0%
Actual composition of the local council:
| | | | | | | | |
| --- | --- | --- | --- | --- | --- | --- | --- |
| | SPD | CDU | GRÜNE | FDP/Bürgerliste | DIE LINKE. | Non-inscrit | Total |
| 2012 | 38 | 23 | 15 | 4 | 3 | 3 | 86 |
Since May 2010, the lord mayor of Dortmund has been Ullrich Sierau (SPD). He works with changing majorities in the local council.
Economy
[
]
Dortmund has historically been an industrial area.
Companies that are headquartered in Dortmund include Signal Iduna, Thyssenkrupp Uhde Gmbh and Wilo. Dortmund is now home to a number of medium-sized information technology companies,[15] many linked to the local university TechnologieZentrumDortmund program.[16] The city works closely with research institutes, private universities, and companies to collaborate on the commercialisation of science initiatives.[17]
In 2009, Dortmund was classified as a Node city in the Innovation Cities Index published by 2thinknow.[18]
Transportation
[
]
Dortmund also serves as a major European and German crossroads for the Autobahnsystem. The Ruhrschnellweg follows old Hanseatic trade routes to connect the city with the other metropolises of the Ruhr Area. Connections to more distant parts of Germany are maintained by Autobahn routes A1 and A2, which traverse the north and east city limits and meet at the Kamener Kreuz interchange northeast of Dortmund. In combination with the Autobahn A45 to the west these form the Dortmund Beltway (Dortmunder Autobahnring).
The central train station (Dortmund Hauptbahnhof) is the third largest long distance traffic junction in Germany.
Dortmund Airport is a medium-sized, but fast growing airport 13 km (8.1 mi) east of the city centre at the city limit to Holzwickede.[19] The closest intercontinental airport is Düsseldorf International Airport.
Dortmund Harbour (Hafen) is the largest canal harbour in Europe and the 11th fluvial harbour in Germany.
For public transportation, the city has an extensive Stadtbahn and bus system. In April 2008, the newly constructed east-west underground light rail line was opened, completing the underground service in the city centre and replacing the last trams on the surface.[20]
The H-Bahn at Dortmund University of Technology is a hanging monorail built specifically to shuttle passengers between the university's two campuses,[21] which are now also flanked by research laboratories and other high-tech corporations and startups. A nearly identical monorail system transfers passengers at Düsseldorf Airport.[22]
Main sights
[
]
Dortmund is a city of contrasts cultural history tones are set by the churches in the city centre whose towers characterise the skyline of Dortmund. The Reinoldikirche and the Marienkirche are gems of medieval architecture.
The city centre of Dortmund still retains the outline of the medieval city. A ring road marks the former city wall, and the Westen-/Ostenhellweg, part of a medieval salt trading route, is still the major (pedestrian) street bisecting the city centre.
Churches
[
]
Reinoldikirche

, a Protestant church (built in 1233-1450)
Petrikirche, a Protestant church (start of construction 1322). It is famous for the huge carved altar (known as "Golden Miracle of Dortmund"), from 1521. It consists of 633 gilt carved oak figures depicting 30 scenes about Easter.
Marienkirche, a Protestant church originally built in 1170-1200 but rebuilt after World War II. The altar is from 1420.

St. Peter, Syburg

, the oldest church building in the city limits
Castles
[
]
Haus Bodelschwingh (13th century), a moated castle
Haus Dellwig (13th century), a moated castle partly rebuilt in the 17th century. The façade and the steep tower, and two half-timbered buildings, are original.
Haus Rodenberg (13th century), a moated castle

Altes Stadthaus

, built in 1899 by Friedrich Kullrich
Wasserschloss Bodelschwingh
Romberg Park Gatehouse (17th century), once a gatehouse to a moated castle. Now it houses an art gallery.
Industrial buildings
[
]
U-Tower

, former Dortmunder Union brewery, now a museum

Zollern II/IV Colliery

, now part of the Westphalian Industrial Museum and an Anchor Point of the

European Route of Industrial Heritage

(ERIH)
Hansa Coking Plant
Cultural buildings
[
]
Konzerthaus Dortmund

Opernhaus Dortmund

, opera house built in 1966 on the site of the old synagogue which was destroyed by the Nazis in 1938.
The major art museums include the

Museum für Kunst und Kulturgeschichte

and the more recent

Museum Ostwall

.
DASA, Germany Occupational Health and Safety Exhibition (German: Deutsche Arbeitsschutzausstellung)
Brewery Museum Dortmund
Museum of Art and Cultural History

German Football Museum
Other important buildings
[
]
Florianturm

, (television tower Florian)

Westfalenstadion

: Football ground of

Borussia Dortmund

, licensed until 2016 under the name Signal Iduna Park
Close to Westfalenstadion are the

Westfalenhallen

, a large convention centre, the site of several major conventions, trade fairs, ice-skating competitions, concerts and other major events since the 1950s.
RWE Tower (100 metre-high skyscraper)
Education
[
]
The city is the site of several universities, colleges and academies, which attract about 45,000 students.[13] Among them there are:
Technische Universität Dortmund

: Technical university founded in 1968. Departments for natural sciences, engineering, economics and humanities.
Fachhochschule Dortmund

: University of Applied Sciences founded in 1971.
FOM Hochschule für Oekonomie & Management, Standort Dortmund: Academy for management, founded in 1993.
Fachhochschule für öffentliche Verwaltung Nordrhein-Westfalen: Academy for public administration.
International School of Management: Private academy focussing on management and economics, founded in 1990.
IT-Center Dortmund: Private college founded in 2000.
Culture
[
]
The city has a long tradition of music and theatre. The orchestra was founded in 1887 and is now called Dortmunder Philharmoniker. The first opera house was built in 1904, destroyed in World War II and opened again in 1966 as Opernhaus Dortmund. It is operated by Theater Dortmund together with other locations, including (since 2002) the Konzerthaus Dortmund. The Dortmund U-Tower, which was once a brewery, is now centre of creative industries and the Museum am Ostwall. The city is namesake for the Dortmunder style beer and is home to the Dortmunder Actien Brauerei.
Sports
[
]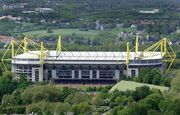 Dortmund is home to the sports club Borussia Dortmund, one of the most successful clubs in German football history. Borussia Dortmund are former Bundesliga champions most recently in 2011/2012. Borussia Dortmund won the UEFA Champions League and the Intercontinental Cup in 1997, as well as the UEFA Cup Winners' Cup in 1966. This made it the first European Cup Winner in Germany. 'Die Borussen' are eight-time German Champions and have won 3 German Cups. Borussia Dortmund play at Westfalenstadion, currently known as Signal Iduna Park. It was built for the 1974 FIFA Football World Cup and also hosted some matches of 2006 FIFA World Cup. It is Germany's largest football stadium with a maximum capacity of 80,720 spectators.[23]
Borussia Dortmund also has a women's handball team playing in the first Bundesliga, while Borussia's table tennis team and the SVD 49 Dortmund basketball team play in their respective second national divisions.
Dortmund is the Olympic centre for Westphalia.
The Sparkassen Chess-Meeting has been hosted in Dortmund since 1982.
Twin towns—sister cities
[
]
See also:
List of twin towns and sister cities in Germany
Dortmund is twinned with:[24]
References
[
]
External links
[
]

Wikimedia Commons has media related to:
Münster

Hamm

, Bielefeld
Essen,

Duisburg

Paderborn, Kassel
     
Dortmund
Düsseldorf, Leverkusen, Cologne, Bonn
Siegen, Frankfurt
Members of the

Hanseatic League

by

Quarter

Chief cities shown in

smallcaps

.

Free Imperial Cities

of the Holy Roman Empire shown in italics.

Wendish

Lübeck

Anklam

Demmin

Kolberg (Kołobrzeg)

Lüneburg

Rostock

Rügenwalde (Darłowo)

Stolp (Słupsk)

Stralsund

Saxon

Baltic

Elbing (Elbląg)

Thorn (Toruń)

Westphalian

---

Kontore

Principal
Subsidiary

Other cities
Free Imperial Cities

of the

Holy Roman Empire

D: Member of the

Décapole

.

   

H: Member of the

Hanseatic League

.

   

S: Member or associate of the

Swiss Confederacy

.
Lower Rhenish–Westphalian Circle

(1500–1806) of the

Holy Roman Empire

Ecclesiastical

Cambrai

(until 1678)

Corvey

1

Liège

Minden

2

Münster

Stavelot–Malmedy

1

Osnabrück

Paderborn

Utrecht

(until 1548)

Verden

(until 1648)

Prelates

Corvey

2

Essen

Herford

Kornelimünster

Stavelot–Malmedy

2

Thorn

Werden

Secular

Cleves

with

Mark

East Frisia

1

Jülich

–

Berg

Guelders

(until 1548)

Minden

1

Moers

1

Nassau-Dillenburg

1

Verden

1

Counts
and

lords

From 1500

Bronkhorst

(until 1719)

Diepholz

East Frisia

(until 1667)

Horne

3 (until 1614)

Hoya

Lingen

3

Lippe

Manderscheid

(until 1546)

Moers

(until 1541)

Nassau

Diez

Hadamar

Dillenburg

(until 1664)

Oldenburg

(until 1777)

Pyrmont

Ravensberg

3

Reichenstein

Rietberg

Salm-Reifferscheid

Sayn

Virneburg

Wied

Winneburg

and

Beilstein

Zimerauff

?

From 1792

Anholt

Blankenheim and Gerolstein

Gemen

Gimborn

Gronsfeld

Hallermund

Holzappel

Kerpen-Lommersum

Myllendonk

Reckheim

Schleiden

Wickrath

Wittem

Status
uncertain

Fagnolle

Schaumburg

Spiegelberg

Steinfurt

Cities

Aachen

Cologne

Dortmund

Duisburg

?

Verden

(until 1648)

Warburg

?

1 from 1792 2 until 1792 3 without seat in Imperial Diet ? status uncertain

Circles est. 1500: Bavarian, Swabian, Upper Rhenish, Lower Rhenish–Westphalian, Franconian, (Lower) Saxon

Circles est. 1512:

Austrian

,

Burgundian

,

Upper Saxon

,

Electoral Rhenish

 
 

Unencircled territories
Urban and rural districts in the state of

North Rhine-Westphalia

in Germany

Urban districts

Bochum

Bottrop

Dortmund

Duisburg

Gelsenkirchen

Hagen

Hamm

Herne

Mönchengladbach

Oberhausen

Remscheid

Solingen

Rural districts