Col. Ebenezer Sproat was born 9 February 1752 in Middleborough, Plymouth County, Massachusetts to Ebenezer Sproat (1717-1786) and Bathsheba Wood (1724-1798) and died 7 January 1805 Marietta, Washington County, Ohio of unspecified causes. He married Katherine Whipple (1761-1834) 7 April 1781 in Providence, Providence County, Rhode Island.
Biography
Col. Ebenezer Sproat (1752–1805), surname also spelled Sprout, was an officer of the Continental Army during the American Revolutionary War, a pioneer to the Ohio Country, and one of the founders of Marietta, Ohio, the first permanent American settlement in the Northwest Territory. He served throughout the entire American war of independence, from April 1775 through November 1783, achieving the rank of colonel. After the war, he was a pioneer and surveyor in the Northwest Territory, and became a leader of the militia at Marietta during the Northwest Indian War. He was the first sheriff in the Northwest Territory and Ohio, serving fourteen years as sheriff of Washington County, the oldest county in Ohio.
Ebenezer Sproat was born in Middleborough, Massachusetts in 1752. He was the son of Ebenezer Sproat, who owned a farm and was the proprietor of the Sproat Tavern in Middleborough.
American Revolutionary War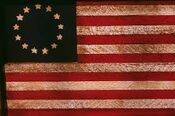 13th Massachusetts Regiment - commanding officer. The regiment would see action in the American Revolutionary War at the Battle of Saratoga and the Battle of Monmouth.
Marriage and Family
After the war, Ebenezer Sproat lived in Providence, Rhode Island, where he married Catherine Whipple, daughter of Commodore Abraham Whipple of the Continental Navy. He purchased a store, and worked as a merchant, but was not successful. In 1786 he was appointed as surveyor for the state of Rhode Island. In that role, he participated in the surveying of the Seven Ranges in the Ohio Country.
Children
Siblings
Vital Records
Gravestone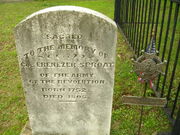 Gravestone Location:

Mound Cemetery

at Marietta, Ohio.
Gravestone Inscription:
Sacred to the memory of Col. Ebenezer Sproat of the Army of the Revolution Born 1762. Died 1805.
References
Residences
Footnotes (including sources)