Edmund Bloise was born 1 November 1584 in Swannington, Norfolk, England, United Kingdom to John Bloye (1559-1627) and died April 1681 Watertown, Middlesex County, Massachusetts, United States of unspecified causes. He married Mary Cooper (1594-1672) 11 October 1620 in St Nicholas Church of Colchester, Colchester, Essex, England, United Kingdom. He married Ruth Parsons (1600-1676) 27 July 1675 in Cambridge, Middlesex County, Massachusetts, United States.
Biography
"Edmund Bloss, progenitor of the family by this name in America, came to Massachusetts before 1634. and his wife Mary, aged forty, and his son Richard, aged eleven. Bond says, in his "History of Watertown," came to join him in the ship "Francis," from Ipswich, in April of that year. He was admitted freeman at Watertown, May 22, 1639. His wife died May 29, 1675, and he married (second) September 27, 1675, Ruth, daughter of Hugh Parsons. She died December, 1711, and at a meeting of the selectmen of Watertown, December 21, 1711, it was "ordered four gallons of wine also sugar and spice that Ruth Bloss (who lies dead) may have a decent funeral." It is said that Edmund was born in 1587," and died at a great age, believed to have been April, 1681. He was a grantee of five lots in Watertown. Among their children was Richard" (Jordan, pp. 357-60).
Watertown Founders Monument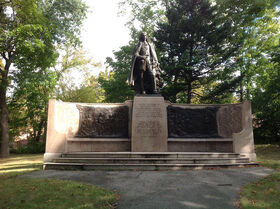 He is listed on Watertown Founders Monument, commemorating the first settlers of Watertown, Massachusetts. The town was first known as Saltonstall Plantation, one of the earliest of the Massachusetts Bay Colony settlements. Founded in early 1630 by a group of settlers led by Richard Saltonstall and George Phillips, it was officially incorporated that same year. The alternate spelling "Waterton" is seen in some early documents.
Children
Siblings
References
Residences
Footnotes (including sources)