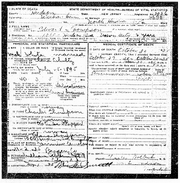 Edward A. Thompson I (1895-1935) Delicatessen Owner (b. July 25, 1895, Farsund Vest-Agder, Norway - d. October 30, 1935, Union City, Hudson County, New Jersey)
Birth
[
]
He was born in Farsund, Norway.
World War I
[
]
He registered for the draft on June 05, 1917, he was tall and slender with blue eyes and light brown hair. He was living at 3100 Boulevard in Jersey City and working as a carpenter at "Snere? and Trust" at the Woolworth building in Manhattan. He served in World War I.
Marriage
[
]
He married Klara Helene Shultz (1895-1973) around 1921. Clara was from Farsund, Norway. Together they had at least two children: Edward A. Thompson II (1929-?); and Dorothy Thompson (c1930-?).
Jersey City, New Jersey
[
]
In 1930 Klara Helene Shultz and Edward A. Thompson I were delicatessen owners, and living at 2/4 Webster Avenue with their son. Living with them was Sigrid Marie Andreassen (1905-1940) and Ralph Andreas Christian Tandberg (1901-1995), who was listed incorrectly as "Edward Tandberg". Ralph was working as an "insurance inspector".
Death
[
]
He died on October 30, 1935, when he was living at 1000 Hudson Avenue in Union City, New Jersey. His funeral notice appeared in the Jersey Journal.
Burial
[
]
Edward was buried on November 02, 1935 in Fairview Cemetery. He was buried with "Clara Muhlbruck" who was buried on February 01, 1973; "Sigrid Tandberg" (1905-1940) who was buried on December 18, 1940; and "Sophia Andreassen" who was buried on August 15, 1949.
Widow
[
]
Clara later married a Muhlbruck.
Images
[
]