Jurassic World: Dominion Dominates Fandom Wikis - The Loop
Play Sound
Edward Bishop was born circa 1620 in Kingston, Surrey, England to Thomas Bishop (1593-1626) and Avis Abbott (1590-1673) and died 3 March 1705 Salem, Essex County, Massachusetts of unspecified causes. He married Hannah Moore (1625-1686) 1645 in Salem, Essex County, Massachusetts. He married Bridget Playfer (1632-1692) 1687 in Salem, Essex County, Massachusetts.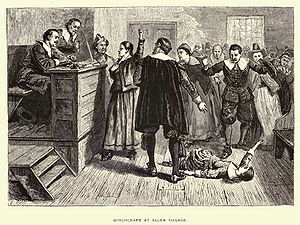 The Salem witch trials were a series of hearings and prosecutions of people accused of witchcraft in colonial Massachusetts between February 1692 and May 1693. More than 200 people were accused, nineteen of whom were found guilty and executed by hanging (fourteen women and five men). One other man, Giles Corey, was pressed to death for refusing to plead, and at least five people died in jail. It was the deadliest witch hunt in the history of the United States.
Bridget Bishop, Thomas 2nd wife, was accused of bewitching five young women, Abigail Williams, Ann Putnam, Jr., Mercy Lewis, Mary Walcott, and Elizabeth Hubbard, on the date of her examination by the authorities, April 19 1692. She was the first to be executed in 1692.
Thomas Oliver is a major link in the old and well-known theory that his widow, Bridget Bishop, was executed on trumped up charges because her in-laws were jealous of what she had inherited from him. Upham's History of the Salem Witchcraft Trials makes clear that her marriage to Thomas Oliver is a determining factor in the witchcraft prosecution of Bridget Oliver Bishop.
Marriage and Family
2nd Marriage : Bridget Bishop
Bridget's maiden name appears to have been Mangus or Playfer. She was married three or possibly four times.
She married her first husband Captain Samuel Wesselby on 13 April 1660, at St. Mary-in-the-Marsh, Norwich, Norfolk, England.[6] She had two sons and one daughter from her first marriage: John, Benjamin[7] and Mary.[8]
Her second marriage, on 26 July 1666,[9] was to Thomas Oliver, a widower and prominent businessman. She had another daughter from her marriage to Thomas Oliver, Christian Oliver (sometimes spelled Chrestian), born 8 May 1667.[10] She was earlier accused of bewitching Thomas Oliver to death, but was acquitted for lack of evidence.
Her third marriage c. 1687 was to Edward Bishop, a prosperous sawyer, whose family lived in Beverly.[11]
Children
Offspring of Edward Bishop and Hannah Moore (1625-1686)

Name
Birth
Death
Joined with

Hannah Bishop (1646-1738)

Edward Bishop (1648-1711)

Mary Bishop (1651-1742)
Siblings
Residences
See Also
Edward Bishop

Bishop in Essex County, Massachusetts

Bishop in Norfolk
Footnotes (including sources)