Veteran of U.S. Cavalry (1830-1837)
Bishop of Nauvoo 5th Ward (1844-1846)
Bishop of the Salt Lake 13th Ward {1849-1854)
3rd Presiding Bishop of the LDS Church (1851-1883)
Leader of 1850 Wagon Train to Utah
Biography
Edward Hunter was born 22 June 1793 in Newtown Square, Delaware County, Pennsylvania, United States to Edward Hunter (1747-1817) and Hannah Maris (1755-1803) and died 16 October 1883 Salt Lake City, Salt Lake County, Utah, United States of unspecified causes. He married Ann Standley (1808-1855) 30 September 1830 in Chester County, Pennsylvania, United States. He married Laura Lovina Shimer Kaufman (1827-1894) 1844 in Hancock County, Illinois, United States. He married Susannah Wann (1825-1885) 29 January 1846 in Nauvoo, Hancock County, Illinois. He married Henrietta Spencer (1839-1886) 20 November 1856 in Salt Lake City, Salt Lake County, Utah.
Edward Hunter, Jr. (June 22, 1793 – October 16, 1883) was the third Presiding Bishop of The Church of Jesus Christ of Latter-day Saints (LDS Church) from 1851 until his death. He served as Presiding Bishop longer than any other person in the history of the LDS Church.
Born to Edward Hunter and Hannah Maris in Newtown Square, Pennsylvania, Hunter was engaged in the mercantile business near Philadelphia from 1816 to 1822 and was married to Ann Standley in 1830. Hunter served in the United States Cavalry for seven years, and as Delaware County commissioner for three years. During this time, Hunter identified as a Swedenborgian.[1]
Hunter converted to The Church of Jesus Christ of Latter Day Saints in 1840. Baptized by Orson Hyde (1805-1878), he sold all his land and possessions, moved to Nauvoo, and gave all to the Prophet Joseph. He also served for some time as one of Joseph's many bodyguards. At the time of the martyrdom of Joseph and Hyrum Smith, he helped hide the bodies for fear of desecration by enemies of the Church.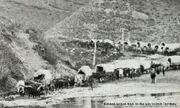 Numbered amoung the participants in the Edward Hunter 1850 Pioneer Company, a early Mormon pioneer wagon train traveling from to Salt Lake City in the early summer. 261 individuals and 67 wagons were in the company when it began its journey from the outfitting post at Kanesville, Iowa (present day Council Bluffs). This company was organized at 12-mile creek near the Missouri River. It was the first Perpetual Emigrating Fund Company of LDS Church. Its leader, Edward Hunter (1793-1883) had served as bishop of the Nauvoo 5th Ward and would go to become the 3rd presiding bishop of the church the following year. Several diary/biographical accounts exist for this group.
Bishop Hunter
He served as bishop of the Nauvoo 5th Ward from 1844 to 1846, and made significant financial contributions to the early church. He migrated to the Salt Lake Valley in 1850and served as the bishop of the Salt Lake City 13th Ward from 1849 to 1854. Hunter was elected to the Utah Territorial Assembly on November 15, 1851, and served one term.
Hunter was called as Presiding Bishop by LDS Church president Brigham Young in 1851. Young and Heber C. Kimball served as Hunter's informal counselors for more than five years until Hunter formally called Leonard W. Hardy and Jesse Carter Little to these positions.
As ex officio president of the church's Aaronic priesthood, Hunter laid the southwest cornerstone of the Salt Lake Temple on April 6, 1853.
Hunter died at Salt Lake City, Utah Territory, and was buried at the Salt Lake City Cemetery.
Children
Offspring of Edward Hunter and

Laura Lovina Shimer Kaufman (1827-1894)

Name
Birth
Death
Joined with

Caroline Rosealy Hunter (1846-1846)




Rodolph Edward Shimer Hunter (1847-1923)




William Wallace Hunter (1851-1934)




Oscar Fitzallen Shimer Hunter (1852-1931)




Laura Lovina Hunter (1853-1934)
Offspring of Edward Hunter and

Susannah Wann (1825-1885)

Name
Birth
Death
Joined with

Edward Enoch Wann Hunter (1849-1931)




Margaret Catharine Wann Hunter (1851-1852)




Daniel Wann Hunter (1856-1928)
Offspring of Edward Hunter and

Henrietta Spencer (1839-1886)

Name
Birth
Death
Joined with

Amelia Spencer Hunter (1859-)




Helen Hannah Hunter (1863-1865)




Edward Bishop Hunter (1866-1936)
Siblings
#g1: Offspring of Edward Hunter (1747-1817) and Hannah Maris (1755-1803)
Name
Birth
Death
Joined with

Rebecca Hunter (1776-1852)

,
,

Alice Hunter (1778-)

,
,

Margaret Hunter (1781-1826)

,
,
William Hunter (1784-1853)
27 May 1784,

Newtown Square

, Delaware County, Pennsylvania, United States
8 April 1853,

Newtown Square

, Delaware County, Pennsylvania, United States
Sarah Ann Davis (1793-1840)

Alice Hunter (1787-1857)

,
,

Hannah Hunter (1790-1875)

,
,
Edward Hunter (1793-1883)
22 June 1793,

Newtown Square

, Delaware County, Pennsylvania, United States
16 October 1883, Salt Lake City, Salt Lake County, Utah, United States
Ann Standley (1808-1855)

+

Laura Lovina Shimer Kaufman (1827-1894)

+

Susannah Wann (1825-1885)

+

Henrietta Spencer (1839-1886)

Elizabeth Hunter (1796-1873)

,
,
Residences
Vital Records
Salt Lake City Gravestone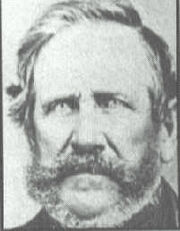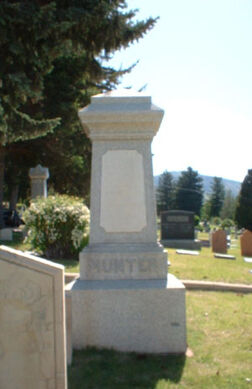 See Also
References
^

William E. Hunter, Edward Hunter: Faithful Steward (Salt Lake City: Publishers Press, 1970), 316
Footnotes (including sources)