Edward Lamb was born 4 October 1612 in Ipswich, Suffolk, England to Edward Lamb (1578-) and Marie Lamb (1581-1610) and died 27 June 1648 Watertown, Middlesex County, Massachusetts of unspecified causes. He married Margaret French (1610-1653) 1632 in Watertown, Middlesex County, Massachusetts.
Biography
Edward Lamb immigrated to New England in 1633. He and his wife Margaret first resided in Watertown. He removed to Boston about 1648. He received the full range of land grants in Watertown: a seven-acre houselot; twenty rods for a garden; three acres of plowland; four acres of meadow; twenty-five acres of upland in the Great Divident in the third division, lot #6; seven and a half acres of upland beyond the further plain, and a farm of sixty-five acres [ WaBOP 4, 7, 9, 13, 41]. He added "one acre of meadow ... in Patch Meadow ... granted to him" [ WaBOP 94]. On 15 March 1647/8 Edward Lamb of Watertown sold to Charles Stearns five of these parcels [ SLR 1:101].
Watertown Founders Monument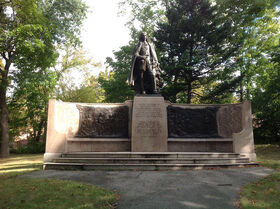 He is listed on Watertown Founders Monument, commemorating the first settlers of Watertown, Massachusetts. The town was first known as Saltonstall Plantation, one of the earliest of the Massachusetts Bay Colony settlements. Founded in early 1630 by a group of settlers led by Richard Saltonstall and George Phillips, it was officially incorporated that same year. The alternate spelling "Waterton" is seen in some early documents.
Marriage and Family
Children
Siblings
References
Footnotes (including sources)