Biography
Elam Barber was born 1811 in New York, United States to Andrew Barber (1784-1868) and Oral Gardner (1791-1850) and died 1844 Lot's Grove, Gentry County, Missouri, United States of unspecified causes. He married Phebe Covey (1816-1902) 22 October 1831 in Cuyahoga County, Ohio, United States.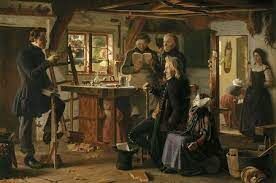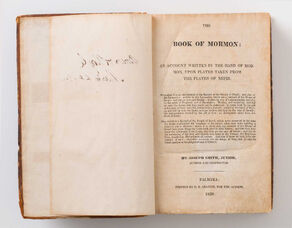 The 1830's saw a great Protestant religious revival sweep across the United States that was called the "Second Great Awakening" and was characterized by much emotional preaching, spiritual and social reform movements and a surge in membership growth for a great many Christian denominations.
This period also saw the rise of a new Church of Christ that was organized in early 1830 by its young prophet-leader, Joseph Smith (1805-1844), and after 1838 was formally named The Church of Jesus Christ of Latter-day Saints. This church group was frequently called the "Mormon Church" or "Latter-day Saints" (LDS) for its belief in a new set of holy scriptures called "The Book of Mormon". For better or worse, this new religion generated a lot of attention in this region.
Missionaries of this church taught that it was not a reform movement or protest movement but a "restoration" of the original church with completeness of the full of doctrine of the gospel of Jesus Christ including the ministering of angels, the restored priesthood, lost scripture, revelations, prophecy, living apostles, the gifts of the spirit and much more. This message had profound impact on many who subsequently left all to follow the Prophet and the Church. In many cases their faith was so strong as to push these early converts to endure many difficult hardships and sacrifices and to eventually journey over a thousand miles westward to settle in the Great Salt Lake Valley. (See also New Religion (LDS 1830).)[1][2]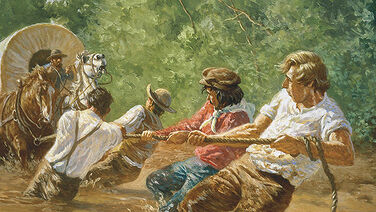 One of the most interesting episodes in the early history of LDS Church was the march of Zion's Camp (1834). The members of the Church in Missouri were being persecuted, and the Prophet Joseph made it a matter of prayer and received a revelation on February 24, 1834. The Lord instructed the Prophet to assemble at least one hundred young and middle-aged men and to go to the land of Zion, or Missouri. (See D&C 130:19–34.)
Zion's Camp, a group of approximately one hundred and fifty men, gathered at Kirtland, Ohio, in the spring of 1834 and marched to Jackson County, Missouri. By the time they reached Missouri, the camp had increased to approximately two hundred men.[3]
Some time after this event, Alam Barber left the church and moved to Lot's Grove in Gentry County, Missouri.
Children
Offspring of Elam Barber and Phebe Covey (1816-1902)
Name
Birth
Death
Joined with

Lovina Barber (1832-)




Baby Covey Barber (1835-1835)




Baby Covery Barber (1839-1839)




Elamon Barber (1842-1925)




Andrew Barber (1845-1917)
Siblings
References
See Also
Elam Barber

Barber in Gentry County, Missouri
Footnotes (including sources)