Jurassic World: Dominion Dominates Fandom Wikis - The Loop
Play Sound
Biography
Elijah Norman Freeman was born 17 April 1822 in Waterford, Caledonia County, Vermont, United States to Isaac Farwell Freeman (1795-1843) and Lydia Farr (1799-1827) and died 18 November 1846 Socorro, Socorro County, New Mexico, United States of unspecified causes. He married Mary Bingham (1820-1893) 17 April 1844 in Nauvoo, Hancock County, Illinois. William I of England (1027-1087), Alfred the Great (849-899)/s, Charlemagne (747-814)/s, Hugh Capet (c940-996)/s, Rollo of Normandy (860-932)/s.
Elijah Norman Freeman was born 17 April 1822 in Vermont, son of Isaac F. and Lydia Freeman. He married Mary in Hancock, Illinois, and shortly after they removed to Nauvoo, where Elijah spent much of his time laboring on the Temple. Elijah and Mary left Nauvoo in 1846 with eighteen-month-old Elijah, Jr. (born in LaHarpe, 20 May 1845) who married Anna Maria Poulson in Salt Lake, 11 March 1872, and Mary Ellen Farley in Salt Lake, 24 April 1876; died in Salt Lake, 14 March 1936).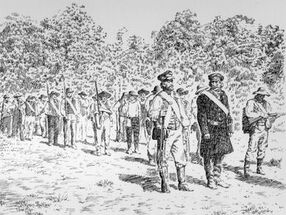 Participant in the march of The Mormon Battalion. This unit of the US Army served in the Mexican-American War and was the only religiously based infantry unit ever created by Presidential order. It consisted of nearly 500 men recruited exclusively from The Church of Jesus Christ of Latter-day Saints (commonly called the Mormons). They undertook the longest infantry march in U.S. military history (as of 1847) and in the process marked out and creating the first continuous wagon road to California which linked the future states of New Mexico, Arizona, and California to the United States. Most members served an initial 12 month term (Jul 1846- Jul 1847) with some members re-enlisting for an additional 12 months afterwards.
Thomas Bingham (1824-1889) and his brother Erastus Bingham (1822-1906) Jr. were in the Mormon Battalion - Company B. Also their brother in law Elijah Norman Freeman. His father-in-law, Erastus Bingham Sr. cared for the families of the volunteers.
They had traveled in Daniel Spencer's company as far as Council Bluffs, Iowa, where Elijah joined the Mormon Battalion as a member of Company "B." Placed to work among the sick, he soon became ill himself and passed away in New Mexico, 28 November 1846. He was buried four miles south of Secorro, New Mexico, on the Rio Grande. (South of Santa Fe, New Mexico.)
"Elijah joined the Mormon Battalion in Council Bluffs and marched with the battalion to Santa Fe and then to the Rio Grande River. He became ill with pleurisy and died on the march to Pueblo. It is believed that he is buried east of the south end of the runway of the Socorro airport, between the bluff and the river" (Larson, Mormon Battalion, 74)
Marriage and Family
Elijah Norman Freeman (1845-1936) - son of Elijah, would travel with his mother to Utah. Elijah II was an Arizona Pioneer, and in 1887 became part of the stake presidency for the newly created St. Johns Arizona Stake.
Children
Siblings
Offspring of Isaac Farwell Freeman (1795-1843) and Lydia Farr (1799-1827)

Name
Birth
Death
Joined with

Diana Freeman (1817-1907)

Olive Hovey Freeman (1820-1905)
6 January 1820 Waterford, Caledonia County, Vermont, United States
22 July 1905

Lewisville

, Fremont County, Idaho, United States
Erastus Bingham (1822-1906)
Elijah Norman Freeman (1822-1846)
17 April 1822 Waterford, Caledonia County, Vermont, United States
18 November 1846

Socorro

, Socorro County, New Mexico, United States
Mary Bingham (1820-1893)

Oscar Freeman (1824-1846)
Offspring of Isaac Farwell Freeman (1795-1843) and

Roxana Porter (1796-1863)

Name
Birth
Death
Joined with

Isaac Porter Freeman (1830-1830)

Lydia Roxana Freeman (1833-1833)
Residences
See Also
Olive Freeman

Freeman in Fremont County, Idaho

Freeman in Caledonia County, Vermont

freeman in Hancock County, Illinois
Footnotes (including sources)