Pvt Elijah Thomas was born 22 January 1815 in West Rockingham, Richmond County, North Carolina, United States to Henry Thomas (1781-1867) and Esther Thomas (1794-1836) and died 14 October 1906 St. George, Washington County, Utah, United States of unspecified causes. He married Mercy Murray Day (1801-1873) 1848 in San Francisco, San Francisco, California, United States.
Biography
Mormon Battalion
Veteran of Company C of Mormon Battalion. Apparently made it all the way to California and got married in San Francisco.
1859 Mormon War
A Veteran of the 1859 Mormon War against Johnson's Army.
1861 Wagon Train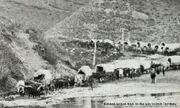 Greene with his family were participants in the David Cannon 1861 Pioneer Company, a 79 day wagon train traveling from Florence (now Omaha, Nebraska) to Salt Lake City in the early summer. It was the first of 12 such wagon trains of the year. It was a large train of 68 wagons and nearly 300 passengers led by a young 23-year old missionary returning home from England, Elder David H Cannon. Several diary/biographical accounts exist.
The Almira Jane Hall journal describes evenings on the wagon train of Elijah telling campfire stories about the Mormon Battalion and Johnson's Army
Marriage and Family
Children
Offspring of Pvt Elijah Thomas and

Ann Hayward (1825-1904)

Name
Birth
Death
Joined with

Elijah Murray Thomas (1852-1944)




Joseph Henry Thomas (1854-1937)




Emeline Amelia Thomas (1858-1859)




Meiyer Thomas (1860-1861)
Offspring of Pvt Elijah Thomas and

Harriett Rhoda Johnson (1841-1918)

Name
Birth
Death
Joined with

Mary Ester Thomas (1858-1937)




William Henry Thomas (1861-1909)




Jane Thomas (1863-1943)




Daniel Thomas (1865-1867)




Sarah Ellenore Thomas (1869-1871)




James Monroe Thomas (1875-1952)
Siblings
Vital Records
References
Residences
Footnotes (including sources)