We're Getting Mutants in the MCU - The Loop
Play Sound
Biography
Elisha Hurd Grove was born 5 November 1797 in Madison County, Kentucky, United States to John Frederick Groves (1774-1856) and Polly Hurd (1775-1870) and died 27 December 1867 Toquerville, Washington County, Utah, United States of unspecified causes. He married Sarah Hogue (1792-1867) 28 October 1824 in Knox County, Indiana, United States. He married Lucy Simmons (1807-1883) 13 January 1836 in Kirtland, Geauga County, Ohio, United States. He married Bodil Maria Hansdatter (1818-1889) 5 August 1858 in Old Fort Harmony, Washington County, Utah.
Zions Camp Participant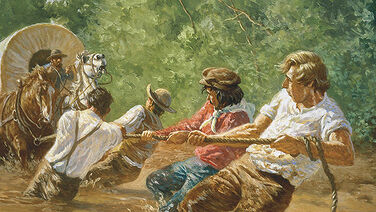 One of the most interesting episodes in the early history of LDS Church was the march of Zion's Camp (1834). The members of the Church in Missouri were being persecuted, and the Prophet Joseph made it a matter of prayer and received a revelation on February 24, 1834. The Lord instructed the Prophet to assemble at least one hundred young and middle-aged men and to go to the land of Zion, or Missouri. (See D&C 130:19–34.)
Zion's Camp, a group of approximately one hundred and fifty men, gathered at Kirtland, Ohio, in the spring of 1834 and marched to Jackson County, Missouri. By the time they reached Missouri, the camp had increased to approximately two hundred men.
Children
Offspring of Elisha Hurd Grove and Lucy Simmons (1807-1883)

Name
Birth
Death
Joined with

Mary Leah Groves (1836-1908)

John Simmons Groves (1838-1839)

Samuel Elisha Groves (1840-1923)

Patience Sibyl Groves (1841-1923)

Sarah Matilda Groves (1848-1925)

Eveline Groves (1854-)
Siblings
Vital Records
See Also
Elisha Hurd Groves - Joseph Smith Papers

Elisha Groves

Groves in Washington County, Utah

Groves in Madison County, Kentucky

Groves in Knox County, Indiana
Residences
Footnotes (including sources)