Elizabeth Arnold Carpenter was born 23 November 1611 in Ilchester, Somerset, England to William Arnold (1587-1676) and Christian Peake (1583-1659) and died 23 November 1685 Providence, Providence County, Rhode Island of unspecified causes. She married William Carpenter (1605-1685) 1 November 1635 .
Biography
1636 Providence Plantation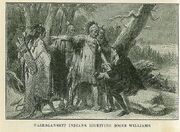 Both her husband, William Carpenter (1605-1685) and father, William Arnold (1587-1676), are signers of the Providence Plantation Compact in 1636, 1st settlement in the future state of Rhode Island. This group was followers of Roger Williams, who was banished from the Massachusetts Bay Colony for heretical preaching. In early 1636 his group went to purchase territory immediately to the west of Plymouth Colony, from the Narrangansett Indians. It is present-day Providence, Rhode Island.
Children
Offspring of William Carpenter and Elizabeth Arnold (1611-1685)
Name
Birth
Death
Joined with
Joseph Carpenter (1640-1683)
April 1640 Providence, Providence County, Rhode Island, United States
August 1683

Musketa Cove

, Nassau County, New York, United States

Hannah Hope Carpenter (1640-1673)

 

Hannah Hope Carpenter (1640-1673)

 

Anna Elizabeth Weekes (1649-1713)



Ephraim Carpenter (1640-1703)
1640 Providence, Providence County, Rhode Island
1703 Oyster Bay, Nassau County, New York
Susannah Harris (1642-1677) 

Susannah England (1647-1684)

 

Susannah Harris (1642-1677)

 

Susannah England (1647-1684)

 

Lydia Wood (c1650-)




Priscilla Carpenter (1648-1695)




Silas Carpenter (1650-1695)




Benjamin Carpenter (1651-1711)
Siblings
Residences
Footnotes (including sources)