We're Getting Mutants in the MCU - The Loop
Play Sound
Biography
Elizabeth Cope was born circa 1529 in Canons Ashby, Northamptonshire, England, United Kingdom to John Cope (c1504-1558) and Bridget Raleigh (1506-?) and died 30 September 1584 Canons Ashby, Northamptonshire, England, United Kingdom of unspecified causes. She married John Dryden (c1526-c1584) 1553 JL . Charlemagne (747-814)/s, Henry II of England (1133-1189)/s, Hugh Capet (c940-996)/s, William I of England (1027-1087)/s.
Dryden Baronets of Canons-Ashby (1619)
The Dryden Baronetcy, of Canons-Ashby in the County of Northampton, (this baronetcy group was the first of three created under this name) was created in the Baronetage of England on 16 November 1619 for Erasmus Dryden, subsequently Member of Parliament for Banbury. The second Baronet represented Northamptonshire in the House of Commons. The title became extinct on the death of the seventh Baronet in 1770. However, the title was revived in 1795 (see below).
The poet John Dryden (1631-1700) was the grandson of the first Baronet.
Dryden baronets, of Canons-Ashby (1619)
Sir John Dryden, 2nd Baronet (c. 1580–c. 1658)
Sir Robert Dryden, 3rd Baronet (c. 1638–1708)
Sir John Dryden, 4th Baronet (c. 1635–1710)
Sir Erasmus Henry Dryden, 5th Baronet (1669–1710)
Sir Erasmus Dryden, 6th Baronet (1636–1718)
Sir John Dryden, 7th Baronet (c. 1704–1770)
Canons Ashby Estate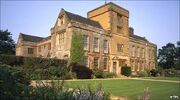 In 1538 Sir John Cope (husband of Bridge Raleigh), a wealthy Banbury lawyer, purchased Canons Ashby Estate from Francis Bryan, a close ally of King Henry VIII. Sir John's daughter Elizabeth inherited what is thought to have been the priory farmhouse [wrong – Wilkyns farm was part of John Dryden's inheritance. Copes Ashbie – across the road – was inherited by Elizabeth's brother, who died early leaving his sons as Wards of the Dryden family]. In 1551 she married John Dryden, who extended the building to form the earliest parts of Canons Ashby House.
Part of the building survives: the Church of England parish church of St Mary dates from about 1250 and this, together with Canons Ashby House, is now owned by the National Trust. Its power and size can be judged by its outlying buildings which cover a large area of the surrounding countryside. The remains of the priory's hospitalium survive as the monastic building centered on the parish church of Maidford, about 5 miles (8 km) away.
Canons Ashby Priory was an Augustinian priory at Canons Ashby, Northamptonshire, England. It was founded circa 1150, during the reign of King Henry II.
Children
Offspring of John Dryden (c1526-c1584) and Elizabeth Cope

Name
Birth
Death
Joined with

Anthony Dryden (c1551-c1580)

Erasmus Dryden, 1st Baronet Dryden of Canons-Ashby (1553-1632)
20 December 1553 Canons Ashby, Northamptonshire, England, United Kingdom
22 May 1632 Warwick, Warwickshire, England, United Kingdom

Frances Wilkes (1557-1630)

Mary Dryden (c1555-1617)

Edward Dryden (c1556-)

George Dryden (c1557-1591)

John Dryden (c1559-)

Elizabeth Dryden (c1561-)

Bridget Dryden (c1562-1645)
1562 Ashby Saint Ledgers, Northamptonshire, England, United Kingdom
2 April 1645 Hertford, Hertfordshire, England, United Kingdom
Francis Marbury (1555-1611)

Thomas Dryden (c1563-aft1620)

Stephen Dryden (c1567-aft1591)

Emma Dryden (1569-1602)
1574 Canons Ashby, Northamptonshire, England, United Kingdom
1602 Grantham, Lincolnshire, England, United Kingdom
William Bury (1567-)
Nicholas Dryden (c1571-1608)
1571
1608

Mary Emyley (?-?)
Siblings
Siblings
References
See also
External links
Contributors
Footnotes (including sources)